Entertainment & Cinema
Rajamouli reacts after Anand Mahindra asks him to make film on Indus Valley Civilisation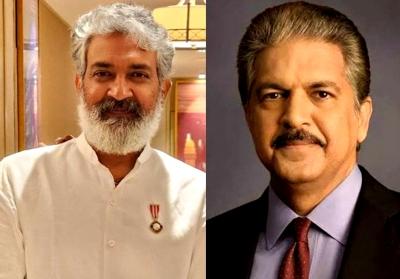 To clarify Filmmaker SS Rajamouli has shared a response after Mahindra Group chairman Anand Mahindra asked him to do a film based on Indus Valley Civilisation.
Koduri Srisaila Sri Rajamouli (born 10 October 1973) is an Indian film director and screenwriter. Who primarily works in Telugu cinema and is known for his action, fantasy, and epic genre films. He is the highest grossing Indian director of all time and the highest-paid director in India. He is a recipient of various national and international honours. Including a New York Film Critics Circle award, a Critics' Choice Movie Award, two Saturn Awards, and three National Film Awards. In 2016, the Government of India honoured him with the Padma Shri, for his contributions in the field of Art. In 2023, he was included on Time's list of the 100 most influential people in the world.
Anand took to Twitter, where he re-shared a post on the ancient cities of the civilisation including Harappa, Mohenjo Daro, Dholavira, Lothal, Kalibangan, Banawali, Rakhigarhi, Surkotada, Chanhu Daro, and Rupar among many others.
Anand Mahindra tweeted, "These are amazing illustrations that bring history alive and spark our imagination. Shoutout to @ssrajamouli to consider a film project based on that era that will create global awareness of that ancient civilisation…"
Reacting to that, Rajamouli replied: "Yes sir… While shooting for Magadheera in Dholavira, I saw a tree so ancient that It turned into a fossil. Thought of a film on the rise and fall of Indus Valley Civilisation, narrated by that tree!! Visited Pakistan few years later. Tried so hard to visit Mohenjodaro. Sadly, was denied permission."