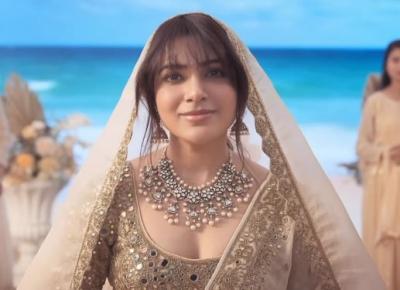 Samantha is an Indian actress who primarily works in Tamil and Telugu films. One of the highest-paid South Indian actresses, she is the recipient of several accolades, including four Filmfare Awards South, and six South Indian International Movie Awards. She has established herself as one of the leading actresses in South Indian cinema.
Star Samantha Ruth Prabhu has spoken about various taboos faces by women today in a new advertisement she features in.
From women marrying at their own will, to returning from work as per their timings or doing action in films – the advertisement talks about all of that.
Samantha captioned it: "Duniya kheechegi neeche, but you got to rise up baby!"
The video begins with Samantha sitting at a mandap as a bride. However, a wedding guest comments on how girls should marry at the right age.
She is then heard saying: "Time pe nahi, marzi se honi chahiye."
The video the shifts to Samantha coming late from work and the watchman asks: "Kaunsa kaam raat ke 12 baje khatam hota hai."
To which, Samantha says it doesn't even end at midnight.
The last segment is about doing an action film. Where the co-actor is heard saying that he is the "hero" and will do "action" in the movie.
Giving a befitting reply: "Par is film ki hero to main hu."
The ad ends with saying: "Sab ki sunoge to khud ki kab karoge."