Community
Badrinath Temple opens, first prayers held on PM Modi's behalf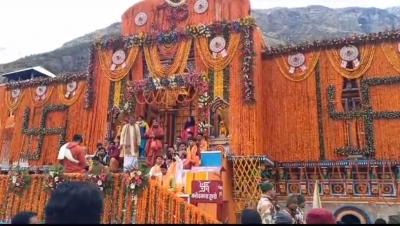 is a Hindu temple dedicated to Vishnu. It is situated in the town of Badrinath in Uttarakhand, India. The temple is also one of the 108 Divya Desams dedicated to Vishnu – holy shrines for Vaishnavas – who is worshipped as Badrinath. It is open for six months every year (between the end of April and the beginning of November), because of extreme weather conditions in the Himalayan region. The temple is located in Garhwal hill tracks in Chamoli district along the banks of Alaknanda River. It is one of the most visited pilgrimage centers of India, having recorded 2.8 million (28 lakh) visits in just 2 months in 2022.[1] It is one of the Char Dham pilgrimage sites.
The gates of the Badrinath temple in Uttarakhand were opened at 7.10 a.m. on Thursday. And the first prayers to Lord Badri Vishal were performed on behalf of Prime Minister Narendra Modi.
The temple was decorated with 20 quintals of flowers.
Thousands of devotees of Badrinath Temple gathered at the temple to witness the grand opening and waited to enter the shrine.
Light rain is continuing in Badrinath since the morning, while snow is being seen in the nearby peaks
The doors of Kedarnath Dham were opened on April 25 after rituals and worship. At the same time, the valleys of the world famous Gangotri and Yamunotri Dham were opened on April 22.
Till now 95,000 devotees have visited the Char Dham. And lakhs of devotees have already registered for the Chardham Yatra.