News
Telangana HC cancels bail of key accused in Viveka murder case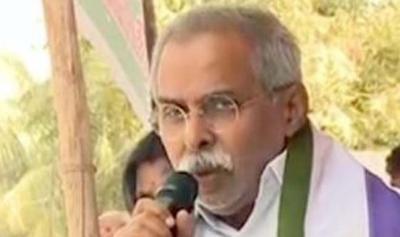 Telangana HC cancels bail of Yerra Gangi Reddy, the prime accused in the murder case of former Andhra Pradesh minister Y.S. Vivekananda Reddy.
It directed him to surrender before the Central Bureau of Investigation (CBI) court by May 5.
The court also clarified that if the accused failed to surrender, the CBI may arrest him.
It ruled that as the CBI is scheduled to complete the hearing on June 30, Gangi Reddy may be granted bail on July 1 on a personal bond of Rs 1.50 lakhs.
The Supreme Court had recently extended the deadline for completing the investigation into the sensational case till June 30.
The CBI sought the cancellation of the bail on the ground that Gangi Reddy is the main accused and has been influencing key witnesses in the case.
The probe agency's counsel had argued that Gangi Reddy is having political backing and is trying to put pressure on the witnesses through his connections.
The Special Investigation Team (SIT) of the Andhra Pradesh Police, which was then investigating the murder case, arrested Gangi Reddy on March 28, 2019.
Gangi Reddy was granted default bail by a local court at Pulivendula on June 27, 2019. As the SIT had failed to file charge sheet in the specified period.
Bail cancel
After the CBI took over the investigation and filed its charge sheet. It had approached the court to cancel his bail. The court had dismissed the CBI petition. Later, the Andhra Pradesh High Court also upheld the decision of the lower court.
Subsequently, the CBI had approached the Supreme Court, challenging the order of the High Court.
The Supreme Court in November last year transferred the trial in the murder case from Andhra Pradesh to CBI court in Hyderabad.
Consequent to this, the apex court asked the CBI to approach the Telangana High Court for cancellation of bail of Gangi Reddy.
Vivekananda Reddy, brother of former Chief Minister Y.S. Rajasekhara Reddy, was murdered at his residence in Pulivendula of Kadapa district on March 15, 2019, weeks before elections.
The 68-year-old was alone at his house when unidentified persons barged in and killed him.
The CBI took over the investigation into the case in 2020 on the direction of Andhra Pradesh High Court. While hearing a petition of Vivekananda Reddy's daughter Suneetha Reddy, who raised suspicion about some relatives.
The Supreme Court transferred the case to Hyderabad while observing that doubts raised by Suneetha Reddy. About getting a fair trial and investigation in Andhra Pradesh were reasonable.