Community
Over 10,000 perform Amaranth Yatra on day two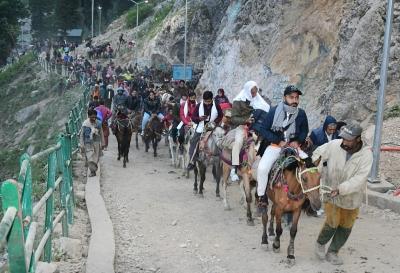 Over 10,000 pilgrims performed the Amaranth Yatra on the second day as another batch of 4,758 Yatris left Jammu for the Valley on Monday.
Officials said that 10,467 pilgrims had 'Darshan' inside the Amarnath cave shrine on second. Of this year's pilgrimage on Sunday as another batch of 4,758 Yatris. Left Bhagwati Nagar Yatri Niwas in Jammu in an escorted convoy for Kashmir this morning. 
"Of these 4,758 Yatris, 3781 are males, 727 are females, 19 are children, 198 are Sadhus and 33 are Sadhvis," officials said.
This year's 62-day long Amaranth Yatra started on July 1 and will end on August 31 coinciding with Shravan Purnima festival.
Situated 3888 metres above the sea-level, the Himalayan cave shrine houses. An ice stalagmite structure which devotees believe symbolises mythical powers of Lord Shiva.
The ice stalagmite structure wanes and waxes with phases of the moon.
Pilgrims approach the cave shrine either from the historic south Kashmir Pahalgam routeduring which they have to trek uphill for 43 Kms till they reach the cave shrine. 
Yatris take 3 to 4 days to reach the cave shrine if they use the Pahalgam route.
Those using the north Kashmir Baltal route have to trek uphill for 13 Kms to reach the cave shrine. Pilgrims using the Baltal route return to the base camp the same day after having 'Darshan'.
Helicopter services are available on both routes for the Yatris.
In addition to the two base camps, there are two main transit camps for the pilgrims, one at Haripora. In north Kashmir Ganderbal district and the other at Mir Bazaar in the south Kulgam district.
To prevent deaths due to high altitude sickness, authorities have banned. All junk food, including bottled cold drinks, deep fried items, halwai items and tobacco products. At the community kitchens set up along the two routes.