Community
Over 24,000 pilgrims perform Amarnath Yatra on 14th day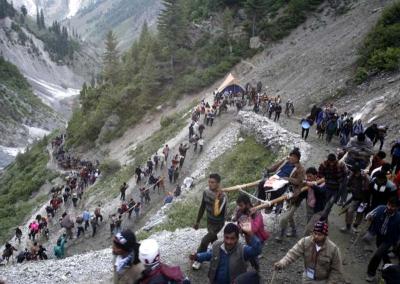 More than 24,000 pilgrims had 'Darshan' inside the cave shrine on the 14th day of the Amarnath Yatra, as another batch of 7,392 devotees left Jammu for the Kashmir Valley on Saturday.
Officials said that since the annual pilgrimage started on July 1, over 1.87 lakh pilgrims have had darshan of the cave shrine.
"A fresh batch of 7,392 pilgrims left the Bhagwati Nagar Yatri Niwas in Jammu for the valley in an escorted convoy today (Saturday) morning.
"Of these, 4,897 are male, 2,095 female, 55 children, 319 Sadhus and 26 Sadhvis," the officials added.
So far, 19 people have died due to natural causes.
Yatris approach the Himalayan cave shrine either from the traditional south Kashmir Pahalgam route which involves an uphill trek of 43 km for from the north Kashmir Baltal base camp which involves a 13 km uphill trek.
Those using the Pahalgam route take 3-4 days to reach the cave shrine, while those using the Baltal route return to the base camp the same day after darshan.
Helicopter services are also available for yatris on both routes.
The cave shrine situated 3,888 metres above the sea-level, houses an ice stalagmite structure that devotees believe symbolises mythical powers of Lord Shiva.
The istructure wanes and waxes with the phases of the moon.
The 62-day long Amarnath Yatra will end on August 31 coinciding with the Shravan Purnima festival.
To protect the pilgrims from high altitude sickness, authorities have banned all junk food at the free community kitchens set up along the two routes.
The banned items include all bottled drinks, halwai items, fried food and tobacco-based products.