Community
Another leopard trapped near Tirumala temple, 4th in two months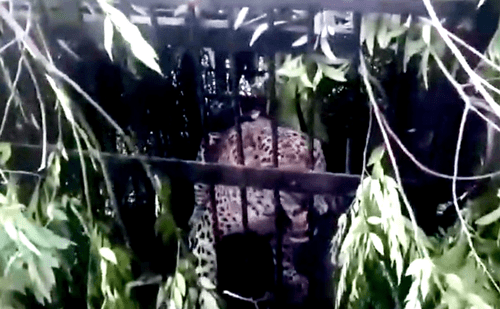 Another leopard was trapped in a cage set up by the forest department on the Alipiri footpath route to the famous Tirumala temple.
The leopard was caught on Sunday night near Seven Miles. With this the number of leopards caught in the last two months has gone up to four.
According to Tirumala Tirupati Devasthanam (TTD) officials, the efforts to trap the fourth leopard were on for the last one week. The footage from CCTV cameras installed along the route showed that every night the leopard was coming closer to the camouflaged cage but not walking into it. However, on Sunday night, the animal entered into the cage and was trapped.
The forest officials later shifted it to SV Zoo Tirupati.
This was the third leopard to be caught after a six-year-old girl was mauled to death on August 11.
Lakshitha (6) was attacked by a leopard while she was walking to Tirumala along the Alipiri footpath on August 11 evening. Her body was found behind Narasimha Swamy temple the next morning.
Following the incident, the TTD, which manages the affairs of the hill shrine, along with the forest department stepped up the vigil. They imposed certain curbs on the movement of devotees trekking to the temple.
The forest department has set up cages to catch the wild cats and launched an operation called 'Operation Chirutha'. A leopard was trapped in the cage on August 14. The female wild cat, aged about 4-5 years, was shifted to SV Zoo Park.
Three days later another leopard was caught. It was a male aged about five years.
Earlier, the forest department had trapped a leopard on June 25, three days after a three-year-old boy was attacked by a wild cat. The animal had tried to drag the boy into the forest but it was chased by pilgrims and security personnel.
After the August 11 incident, the temple body had beefed up security along with Forest. And Police departments at all the vulnerable points along the footpath route to the temple.
The temple body had announced various safety measures in view of the presence. Of an estimated 5-10 leopards in the immediate vicinity of Tirumala-Tirupati forests.
As part of the measures, the TTD also decided to give sticks. To the devotees walking to the temple for self-defence.