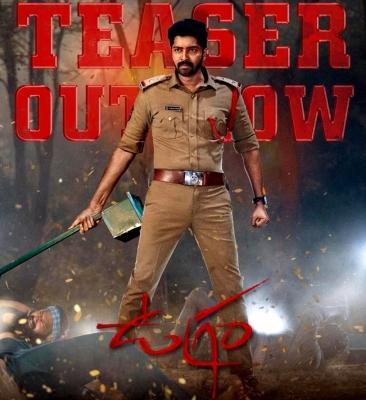 Tollywood actor Allari Naresh on Wednesday launched the teaser of his upcoming movie Ugram.
After the big hit 'Naandhi', Naresh and director Vijay Kanakamedala have teamed up again.
The makers who are planning to release the movie in the summer kick-started the promotions by releasing the teaser.
The teaser begins on an interesting note with Naresh making his entry as a cop and bashing lawbreakers in a jungle. The villain warns him saying: "Vanti Meeda Uniform Undane Kadha Ee Pogarua Ee Roju NeedeaNaako Rojosthundia (All your arrogance is because of the uniform. Today is your day. I'll have my day one day.)"
Naresh gives a strong reply saying: "Naadi Kaani Roju Kooda Nenilaage Nilabadutha Ardhamayinda (I'll stand firm like this, even if it's not my day. Do you understand.)"
The cop turns more aggressive and shows his fury when his family is targeted. Vijay Kanakamedala presented Allari Naresh's character in a new yet intense manner. As a sincere police officer, Naresh not only fits in well, but he also performs commendably to keep the audience engaged. Mirnaa plays Naresh's wife.
Toom Venkat provided the story, whereas Abburi Ravi penned some powerful dialogues. Produced by Sahu Garapati and Harish Peddi of Shine Screens, the production design looks grand. Sid's cinematography for this intense actioner is outstanding, while Sricharan Pakala brings the additional strength with his background score. Chota K. Prasad is the editor for the movie, wherein Brahma Kadali is the production designer.
The makers say going by the teaser, Ugram is going to be the second hit in the combination of Allari Naresh and Vijay Kanakamedala. The film will have its theatrical release in summer, 2023.