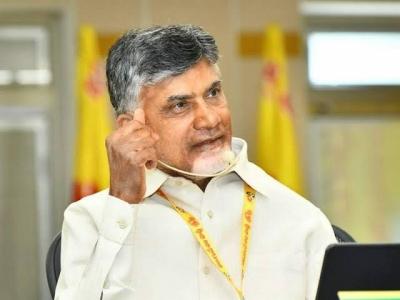 TDP President and former Andhra Pradesh Chief Minister N. Chandrababu Naidu on Wednesday gave a call to the people to join the fight to save the state from the "atrocities" and "destructive rule" of the YSRCP.
In an open letter to the people of the state, he said that the "atrocities" of the ruling YSR Congress Party (YSRCP) are increasing by the day and "the dictatorial attitude" of Chief Minister, Jagan Mohan Reddy, is causing a major setback to the democracy.
"The state government is resorting to violent activities, filing false cases and indecent attacks on the leaders of opposition for questioning the anti-democratic tendencies of the ruling dispensation," he said.
The Telugu Desam Party (TDP) chief said that the destruction at Gannavaram is the latest and classic example of this. He alleged that the TDP leaders were subjected to severe torture at Gannavaram and their properties were completely destroyed. The affected TDP leaders are projected as the prime accused and were sent to jail, he said and stated that he is writing this open letter only to bring the facts to the notice of the public.
Expressing great concern that there is no security for the properties of the common man in this dictatorial rule, Chandrababu Naidu said that the properties of the poor which they have acquired after struggling for the whole life are now being illegally occupied by the ruling party leaders.
Atrocities against women are on the rise and the state has now become a platform for harassment of the downtrodden and backward classes, he alleged, adding that a doctor who asked for masks during the Covid time was done to death while a Dalit youth who raised certain questions on the liquor policy of the state was mercilessly killed.
He felt that the Gannavaram violence is only aimed at suppressing the voice of the downtrodden sections who are questioning the failures of the state government. The local YSRCP leaders with the cooperation from some police officials created total destruction on February 20 and attacked the TDP office. This is a well-planned and perfectly pre-designed scheme as the YSRCP activists attacked the TDP leaders under the direct supervision of the local police officials, he observed.
False cases were registered against at least 40 TDP leaders and some of them were subjected to torture in the police station, he said in the open letter. Even some women activists too were subjected to various kinds of torture in the custody.
The TDP leaders were sent to jail by registering cases under various Acts, including attempt to murder and Atrocities Act, he said.
The TDP supremo said that the fight is now between democracy and dictatorship and called upon the people to join him to save the State from this destruction. "It is ultimately the people who will be the victims if they do not come forward to save the state and the future generations," Chandrababu Naidu concluded.