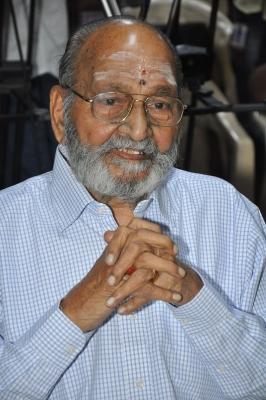 Former Vice-President M. Venkaiah Naidu, chief ministers and governors of Telangana and Andhra Pradesh on Friday condoled the death of legendary Telugu filmmaker K. Vishwanath.
Venkaiah Naidu said he was deeply grieved to hear about the demise of the renowned film director. He noted that as a filmmaker, Vishwanath brought depth and dignity to the medium earning global recognition for his movies with a message.
Naidu said Vishwanath who was known as Kalathapasvi raised the status of Telugu cinema and made "us globally popular".
He conveyed condolences to his family and fans and prayed for his soul to rest in peace.
The former Vice-President pointed out that Vishwanath started his film career as a sound recordist and won the Nandi Award at his first step as a director. "Giving great importance to language, culture and arts, his films portrayed the protagonists in ideal roles and stood as an idea by entertaining us and giving a message," he tweeted.
Telangana Governor Tamilisai Soundararajan said she was saddened to hear about the passing away of Vishwanath. "Kalatapasvi's directorial classics like Shankarabharanam, Swathi Muthyam, Sagara Sangamam etc, will continue to inspire generations to come. Indian cinema lost a genius. Condolences," tweeted the Governor.
Chief Minister K. Chandrasekhar Rao also expressed his deep condolences.
He said that Vishwanath was a rare distinguished film director who chose the ordinary story and turned it into a classic movie on the silver screen with his amazing talent.
The Chief Minister recalled the discussion between Vishwanath and him on movies, music and literature when he visited the ailing noted director's home to console.
CM KCR said that India's traditional values and culture have been given big importance in Vishwanath's films.
He said that Vishwanath was the great Indian director, who visualised the conflicts that always arise in human relationships with music and literature as the main theme.
Many prestigious awards like Dada Saheb Phalke and Raghupathi Venkaiah are a testament to the talent of Vishwanath as a director, the CM said. Vishwanath's name will remain until the Telugu film industry exists, he added.
"Poets and scholars are immortal," said KCR and conveyed his deepest condolences to the bereaved family members.
Andhra Pradesh Chief Minister Y. S. Jagan Mohan Reddy said in his condolence message that Vishwanath's death caused deep grief. "Vishwanath was a mirror of Telugu culture and Indian arts. The films under his direction have brought unparalleled respect to the Telugu film industry. He will remain forever in the hearts of Telugu people as an artist," said the Chief Minister.
Union minister for tourism and culture G. Kishan Reddy said Vishwanath left an indelible mark on Telugu cinema with his masterful storytelling and creative vision. "He won numerous awards and accolades for his contributions to Indian films," he said.