News
Actor Taraka Ratna faints during Lokesh's padyatra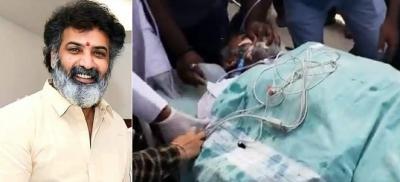 Tollywood actor Nandamuri Taraka Ratna fainted during padyatra of TDP general secretary Nara Lokesh in Kuppam in Chittoor district of Andhra Pradesh.
Taraka Ratna was taken to hospital and his condition is stated to be stable.
The incident occurred when there was a stampede like situation outside a mosque visited by Lokesh soon after launching his 4,000 km-long padyatra.
A large number of Telugu Desam Party (TDP) workers surge forward after Lokesh came out of the place of worship. In the melee, the actor fell down and fainted. Local TDP leaders rushed him to a private hospital in Kuppam.
Taraka Ratna's uncle and popular actor N. Balakrishna called on him at the hospital. The young actor was later shifted to a hospital in Bangalore.
Taraka Ratna is the grandson of TDP founder, legendary actor and former Andhra Pradesh Chief Minister N. T. Rama Rao. He is the cousin of Junior NTR, Kalyan Ram and Lokesh.
Taraka Ratna, who made his film debut in 2002 and has acted in about a dozen movies and web series, is reportedly keen to contest next year's Assembly elections.