News
Azerbaijan offers its hospitals for treating survivors of Turkey-Syria quake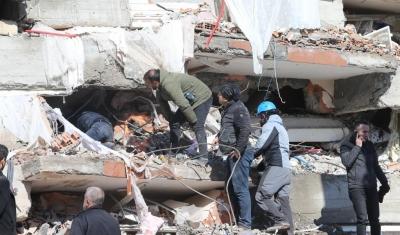 Hospitals in Azerbaijan are ready to receive those injured in the the devastating earthquake that struck Turkey and Syria this week, President Ilham Aliyev announced here.
"Our hospitals have all the conditions for the treatment of our wounded brothers and sisters," said the President, as he visited the Turkish Embassy in Baku on Wednesday to offer his condolences, reports Xinhua news agency.
"Beds have already been allocated in Baku and other cities, including the Nakhchivan Autonomous Republic, and if necessary, we are ready to bring in patients," Aliyev told the Turkish Ambassador after signing a book of condolence at the mission.
He said doctors, rescuers and volunteers are being sent to Turkey, and humanitarian aid campaigns are launched by ordinary people, public organisations and private companies in Azerbaijan to help those affected by the quakes.
"The people of Azerbaijan voluntarily bring whatever they have to support their brothers. Someone brings a blanket, someone brings a mattress, and someone else brings a coat. People are ready to share whatever they have," he said.
Azerbaijan has deployed rapid response search and rescue units, totaling more than 700 people, to earthquake-hit regions of Turkey, according to emergency authorities.
More than 200 Azerbaijanis have been evacuated from Turkey since the earthquake struck on Monday, the Foreign Ministry said.
As of Thursday, the overall death toll in Turkey and Syria rose to 15,383.
Turkey has reported 12,391 fatalities, with 62,914 others injured, while in Syria, there were at least 2,992 deaths and nearly 5,040 injuries.