Politics
Tension during Lokesh's padyatra in Chittoor district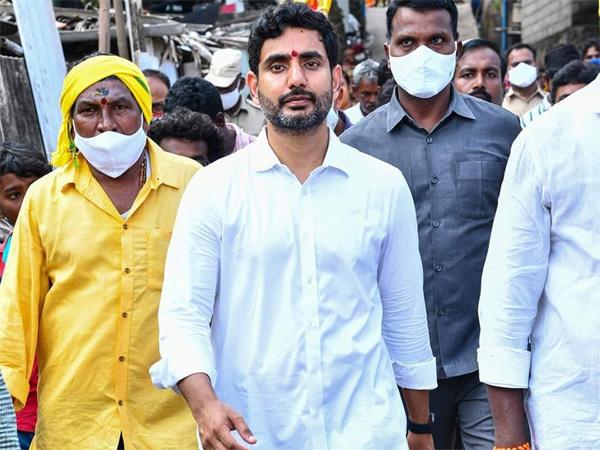 There was mild tension during Telugu Desam Party (TDP) General Secretary Nara Lokesh's padyatra in Andhra Pradesh's Chittoor district when a police official tried to snatch mike from him, citing the ban on public meetings on roads.
The incident took place at NTR Crossroads in NR Peta when Lokesh was addressing participants in the padyatra. Police asked him to stop saying there is no permission for meetings on roads. They cited Government Order (GO) number one issued last month prohibiting public meetings on roads.
As the TDP leader continued his speech, a police officer tried to snatch the mike from his hands. This led to mild tension. The opposition party alleged that the police were creating hurdles for the padyatra at every place.
Lokesh, son of TDP President and former Chief Minister N. Chandrababu Naidu, continued his padyatra 'Yuva Galam' on the 13th day.
The local farmers at Krishnapuram in Chittoor Assembly segment met Lokesh, and he told them as Chandrababu Naidu comes from a farmer's family, he has thorough knowledge about the problems being faced by the farming community.
Recalling that Chandrababu Naidu, as the Chief Minister, was holding repeated review meetings with the then Agriculture Minister, Somireddy Chandramohan Reddy, he felt that agriculture is now remunerative now. "Chandrababu Naidu encouraged agriculture and allied sectors on a massive scale but now the Chief Minister, Jagan Mohan Reddy, who came to power by making several promises to the farmers, did not fulfil even a single one," he said.
He alleged that the Chief Minister is harassing the farmers by installing meters to motor pump-sets due to which the farming sector is in deep crisis now.
Stating that farmers never resorted to suicides due to harassment by the government during the Chandrababu Naidu regime, Lokesh said Andhra Pradesh is now in the third position the country in farmers' suicides. "I am assuring you all that whenever the TDP government is formed again all your problems will be resolved on a war-footing basis," he told the farmers.
Cold-storage plants will be set up and crop insurance will be revived and the Annadata Sukhibhava scheme that is withdrawn now too will be reintroduced, Lokesh said. "The basic problem now is that neither the Chief Minister nor the Minister for Agriculture has any knowledge about agriculture," he remarked.