News
Bodies of five washed away in Telangana floods found, search on for eight others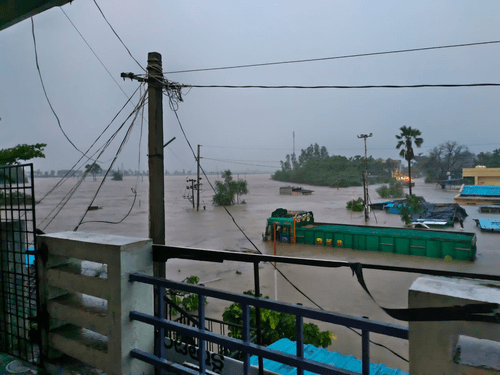 Bodies of five people, who were washed away in floods in Telangana, were found on Friday while search was on for eight others.
A total of eight persons were washed away in Jampanna vagu in Eturnagaram mandal in Mulugu district on Thursday. Four bodies were found near Medaram in Tadwai mandal.
Body of a person washed away in Khammam district was also recovered on Friday.
Search was also on for another person washed away in the Munneru river.
The National Disaster Response Force (NDRF) were searching for three youths of Warangal town who went missing on Thursday. They had gone fishing near Musical Garden but did not return. Their families alerted the authorities.
may occur as an overflow of water from water bodies, such as a river, lake, or ocean, in which the water overtops or breaks levees, resulting in some
Heavy rains and floods wreaked havoc in North Telangana on Thursday.
Overflowing lakes, tanks and irrigation projects inundated more than 100 villages. And several low-lying areas in Warangal, Hanumakonda and Khammam towns.
Flash floods cut off road links to dozens of villages. NDRF with help of State Disaster Response Force (SDRF) and police rescued 1,900 people from Moranchapalli village in Jayashankar Bhupalapally district.
NDRF also rescued seven people stranded in Munneru river in Khammam district.
Chief Secretary Santhi Kumari said 10,696 people from 108 villages were shifted to safer places.
She said 600 people from Moranchapalli village of Bhupalpally district and 19 workers stranded in a sand quarry near Gopalpur of Manthani in Peddapalli district were rescued and shifted to safer locations.
Meanwhile, over 200 colonies in Warangal and Hanumakonda towns remained
inundated.