News
Case against Chandrababu Naidu fit to be quashed , says ex-CBI director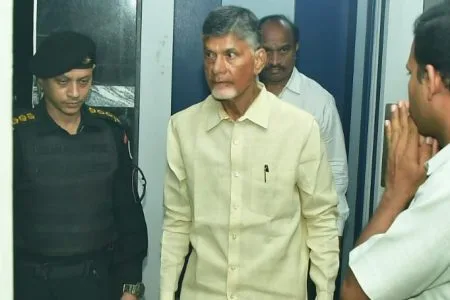 Former interim director of the Central Bureau of Investigation (CBI) M. Nageswara Rao believes that the case booked against ex-Andhra Pradesh Chief Minister Chandrababu Naidu in alleged Skill Development Corporation scam was illegal and fit for quashing.
Stating that the case against Chandrababu Naidu and his arrest was illegal and mala fide, he said it was fit to be quashed under section 482 CrPC and/or Article 226 of Constitution.
Naidu was arrested by the Crime Investigation Department (CID) on September 9 and a Vijayawada court sent him to judicial custody for 14 days.
Nageswara Rao took to X to explain why Naidu's arrest was illegal. According to him, previous approval of the governor was mandatory for the arrest of the former chief minister.
The retired Indian Police Service (IPS) officer explained that consequent to enactment of the Prevention of Corruption (Amendment) Act, 2018 by Parliament section 17A was inserted into PC Act, 1988 with effect from July 26, 2018.
"Section 17A has two parts namely: The 1st part is, it has imposed total embargo on police officers to enquire or inquire or investigate into any offence alleged to have been committed by a public servant under the Prevention of Corruption Act, where the alleged offence is relatable to any recommendation made or decision taken by such public servant in discharge of his official functions or duties, without the previous approval of the competent authority.
"This embargo is on police officer's powers to enquire or inquire or investigate without previous approval of competent authority, and it has nothing to do with the date of commission of alleged offence, whether it occurred before or after section 17A came into force with effect from date 26-7-2018. To further explain, from 26-7-2018 onwards section 17A has removed the powers of police officer's unless the competent authority accords its previous approval," posted Rao.
He argued that with effect from July 26, 2018 section 17A removed the powers of police officers unless they obtained previous approval of competent authority.
The second part of section 17A of the PC Act talks about who is the competent. Authority to accord such previous approval. They are; (a) In the case of central government employees, the central government (b) In the case of state. Government employees, the state government concerned; (c) In the case of any other person, the authority competent to remove him from his office, at the time when the offence was alleged to have been committed.
"As the allegations of corruption etc against Sri Chandrababu Naidu relates. To his Chief Ministership during years 2014 to 2019, obtaining previous approval of Governor of AP. Who is the competent authority to remove a person from the post of CM, was mandatory before the AP CID Police. Started Preliminary Enquiry (PE) or registered the Criminal Case in 2021. It is fatuous and silly to argue that as Chandrababu Naidu was not named in the. PE or Criminal Case as an accused, there was no need to obtain previous approval of the Governor of AP. Section 17A is NOT about registration of PE or Criminal Case against the public servant. It is about blanket ban on police officer's power to inquire or enquire or investigate. Whether or not a case is registered, etc," wrote the former IPS officer.
"Bereft of previous approval of Governor of AP, whatever inquiry or enquiry. Or investigation (including arrest, etc) the IO did, is void ab initio, which means it is a void action. That cannot be ratified or validated ex post facto. Because, the approval ought to be PREVIOUS starting the inquiry or enquiry or investigation. And Sri Biswa Bhushan Harichandan was Governor of AP when the CID Police. Started their inquiry or investigation against Chandrababu Naidu."