News
CMs of Telugu states greet teaching fraternity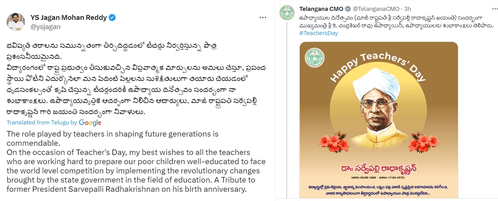 Telugu states Telangana Chief Minister K. Chandrasekhar Rao and his Andhra Pradesh counterpart Y. S. Jagan Mohan Reddy on Tuesday extended greetings to the teaching fraternity on the occasion of Teacher's Day, which marks the birth anniversary of Sarvepalli Radhakrishnan.
Chandrasekhar Rao said that the role of teachers in inculcating discipline, making the students knowledgeable, creating a clear understanding of their goal and succeeding in achieving their aspirations is commendable.
The CM said the famous quote- "Matru devobhava Pitru devobhava Acharya devobhava" explains the importance of a teacher after the parents.
CM KCR said that the Telangana government has been implementing effective action plans for the welfare and development of teachers and  providing quality education for students . Telugu states has already set an example
for the country in the field of education and is in the forefront in shaping the future. Generation by providing quality education, the CM said. That  the activities undertaken by the state government in providing quality education are already yielding desirable  good results.
He said that with the progressive policies adopted by the Telangana government. The  students studying in government schools are bringing laurels to the state. Telangana 's reputation also gained importance at the national and international levels in studies and sports. It is the testament of the  Telangana government's dedication and sincerity towards providing quality education to all the needy.
Meanwhile,  as a gift on Teachers' Day, the Telangana government has regularized contract teachers of gurukulam schools. The government issued orders regularizing the services of 567 contract teachers. Who have been working with  Telangana social welfare Gurukulam schools for the last 16 years.
The government also announced 12 month salary, basic pay with six months maternity leave. To the contract teachers working in the Gurukulams of the Social Welfare Department.
Andhra Pradesh Chief Minister stated that the role played by teachers in shaping future generations is commendable. On the occasion of Teacher's Day, he conveyed his best wishes to all the teachers 'who are working hard to prepare. our poor children well-educated to face the world level competition by implementing the revolutionary changes brought by the state government in the field of education.'
Jagan Mohan Reddy paid tributes to Sarvepalli Radhakrishnan on his birth anniversary.