News
Fifteen killed as bus falls into river in MP's Khargone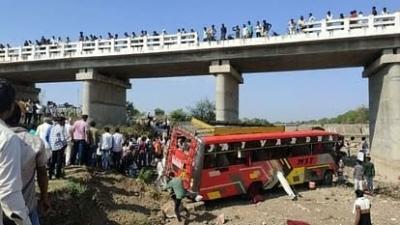 At least fifteen people were killed and nearly 25 others injured after a bus fell into a river in Madhya Pradesh's Khargone district on Tuesday.
Khargone district, formerly known as West Nimar district, is a district of Madhya Pradesh state in central India. The district lies in the Nimar region and is part of the Indore Division. The district headquarters is the city of Khargone, which lies south of the Indore metropolis, the headquarters of Indore district.
The area of the Khargone district is 8,030 km2 (3,100 sq mi). The district is situated between 21°22′ and 22°35′ north latitudes and 74°25′ and 76°14′ east longitudes. The district is surrounded by the districts of Dhar, Indore, and Dewas to the north; Jalgaon district of Maharashtra state to the south; Khandwa and Burhanpur districts to the east; and Barwani district to the west.
According to sources, the incident took place when the bus, which was passing through a bridge, fell into the river.
However local police rushed to the spot and a rescue operation was launched. The injured were rushed to nearby hospitals.
Expressing grief over the loss of lives, Madhya Pradesh Home Minister Narottam Mishra Thebetterandhra.com that the district administration and police have been asked to extend all possible help to the victims.
"Magisterial inquiry has been ordered into the matter. A compensation of Rs 4 lakh to fifteen killed has been announced to the kin of the deceased. In short the injured have been rushed to hospitals for treatment," he added.