News
Flood-hit areas visit: Chandrababu receives huge response at CM's home district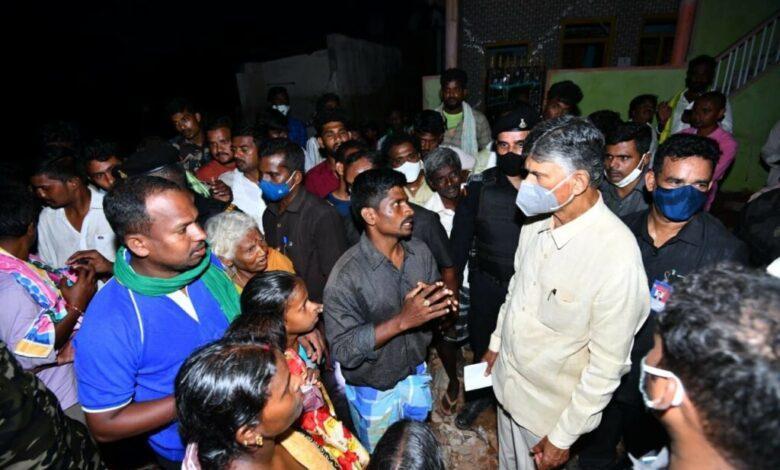 As the man who is an astute crisis manager and takes any situation under control, TDP Chief and former CM N. Chandrababu Naidu is known to be the first person to help out people. Andhra Pradesh has witnessed him as one of the best administrators and crisis managers when Cyclone Hudhud battered Andhra Pradesh, soon after bifurcation in 2014.
Earlier too, when he was the Chief Minister of united AP and even as the Opposition leader in the combined state, he had helped out flood-hit districts of Odisha and neighbouring villages. That way, he enjoys goodwill for saving lives when natural disasters strike the state.
In a similar response to floods in the Rayalaseema region recently, Chandrababu visited CM Jagan's home district of Kadapa on first day as part of his three-day tour (to flood-hits regions of AP). As soon as the TDP Chief was landed at Kadapa airport, large number of party leaders and workers gave him a grand welcome.
Later, he visited Rajampeta and Nandaluru Mandals by road and covered Pulapathuru, Mandapalli, Thogurupeta, Gundluru villages. These villages presented a picture of badly affected areas as they were washed away due to the flood devastation. Naidu interacted with the people and listened to their problems while they poured out their grief and anger against the government's lack of response to their woes.
Cattle, crops, houses and livelihoods destroyed in Kadapa
Apparently, Chandrababu Naidu got a tremendous response for his tour and people received him well. As the Annamayya project on Cheyyeru river breached. A flash flood washed away Mandapalli, Pulapathuru, Thogurupeta, Gundluru villages, which are the downstream areas of the project. As a result, two lakh cusecs of floodwater gushed suddenly on Friday, reducing all the houses on its way into rubble.
Agricultural crops in hundreds of acres were destroyed while sorry visuals of hundreds of cattle being washed away made it to the media. Unfortunately, the villagers said that their cries have fallen onto the deaf ears of the government. They complained to Naidu that there was no support from the state government so far. Naidu assured them confidence and consoled them.
Meanwhile, he said he would fight against the government to do necessary justice and assured compensation from the government for the losses incurred. Naidu will be visiting Chittoor district tomorrow on the second-day of his tour and he will be visiting flood-hit areas in Nellore district where inundation of the Penna river caused havoc.