News
India deeply values strategic partnership with France: Piyush Goyal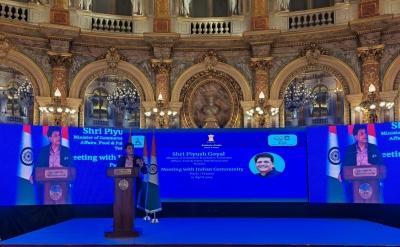 Commerce Minister Piyush Goyal has said that India deeply values its 25 years of strategic partnership with France and 75 years of friendship.
Addressing the Indian diaspora in Paris on Monday during his ongoing visit to France, Goyal said that France is India's preferred partner in defence and various other sectors and this 25-year journey is truly reflective of India's journey of progress.
He further said that India desires to strengthen this partnership with France.
The minister further noted that this year India is celebrating 25 years of partnership with France and 75 years of India's Independence.
He said that while it's a great moment to reflect on all the good things that have been achieved in the last 75 years, it's also a great opportunity for each one of us to reflect on new ideas about how our country should progress in the future.
Goyal claimed during the course of the interaction that half of India until 2014 did not have a toilet.
"Governments came and went but somehow that sensitivity was missing that our mothers, our sisters and our daughters deserve better dignity," he said.
He said that respect and dignity which can come from a basic amenity like a toilet was realised by the NDA government and toilets were constructed throughout the country under the Swachh Bharat Mission so that not a single woman has to face the indignity of not having this facility at home.