News
'Larger conspiracy by Centre', K. Kavitha moves SC against ED's summons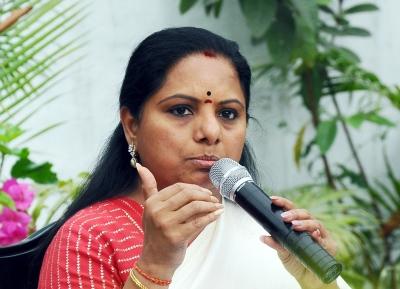 The Supreme Court on Wednesday agreed to hear on March 24, a plea by Bharat Rashtra Samithi (BRS) MLC K. Kavitha against her questioning and also seeking protection from arrest by the Enforcement Directorate (ED) regarding a money laundering case connected with alleged irregularities in the Delhi excise policy scam.
The ED has summoned her for a third time on March 16.
Kavitha's plea said her name has not been mentioned in the FIR registered by the CBI in connection with alleged irregularities in Delhi excise policy.
Former Delhi Deputy Chief Minister Manish Sisodia is already under the ED's custody in the same case.
On Wednesday, the matter was mentioned by a counsel for urgent listing before a bench headed by Chief Justice of India D.Y. Chandrachud, who refused immediate hearing and scheduled the matter for March 24.
Senior advocate Vikram Chaudhari, representing Kavitha, contended that she had earlier appeared before the ED earlier this month but the repeated summons was contrary to law because the petitioner was a woman.
"That despite the petitioner not being named in the FIR, certain members of the incumbent ruling political party at Centre made scandalous statements linking the petitioner to the Delhi excise policy," said the plea.
Kavitha accused the ED of acting in "extremely shameful" manner and as per a "larger conspiracy orchestrated at the behest of the members of the incumbent ruling party at the Centre".
The petitioner claimed the the ED is eliciting false statements from other witnesses by threatening to place them and their family members under arrest.
"The petitioner believes that the investigation against her is nothing more than a fishing expedition being undertaken by the ES solely at the behest of the incumbent ruling political party," added the plea.
It further contended that ED, in teeth of settled law, summoned her to appear before their offices in New Delhi and has confiscated her cellular phone without any written order for production of the phone.
The plea claimed that petitioner apprehends that she would be physically and mentally coerced by the ED and stressed that there is no case against her.
It added that the only basis on which she has been implicated is on the basis of certain statements of a few persons who have given incriminating statements themselves as well as allegedly against her.AKavitha had earlier been questioned by the CBI in the case.
It has been alleged that Kavitha held benami investment in Indospiritis, a liquor firm involved in the scam.
The ED alleged Hyderabad-based businessman Arun Ramchandra Pillai represented Kavitha in Indospirits.
The investigating agency has also alleged the South lobby, which included Kavitha, bribed the AAP government to formulate an excise policy to facilitate the companies to win the bids and to form a cartel and control the retail outlets in Delhi.