News
Oppn MPs move notices in Parliament seeking discussion on Manipur violence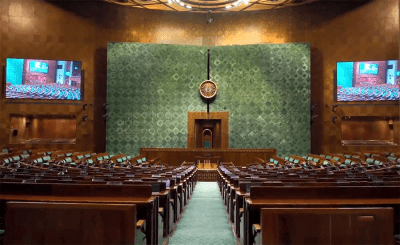 Several Opposition MPs on Thursday moved notices in Rajya Sabha and Lok Sabha seeking a discussion on the Manipur violence.
Congress MP Manickam Tagore gave adjournment motion notice in the Lower House for a discussion on the issue.
In the Upper House, Congress MP Imran Pratapgarhi, Rashtriya Janata Dal (RJD)'s Manoj Kumar Jha and AAP's Raghav Chadha gave suspension of business notice.
This morning, AAP MPs Sanjay Singh slammed Prime Minister Narendra Modi over the situation in the Northeastern state. 
"Yesterday, the Prime Minister made a remark that in 2024, he will return to power. How can the Prime Minister be so insensitive? A part of the country is burning. But, Modi ji is hungry to come back to power again," Singh, who has been sitting in protest against his suspension in the Parliament premises since Monday, said in a video, in an apparent reference to the Manipur situation.
He said, "We(Opposition INDIA) have been demanding that the Prime Minister come to the House and give an exhaustive statement on Manipur. There are incidents of atrocities against women. People are staying in relief camps in the state. Let us wake up the Modi government and ask questions on Manipur. Peace should be restored in Manipur at any cost."
Notably, ethnic clashes erupted in Manipur on May 3 and since then hundreds. Of people have lost their lives whereas thousands have been forced to take refuge in the relief camps.
The Congress and other Opposition parties have been blaming Chief Minister N. Biren Singh for the current crisis in the Northeastern state and demanding his dismissal.