News
Rahul interacts with farmers in Haryana's Sonipat, plants paddy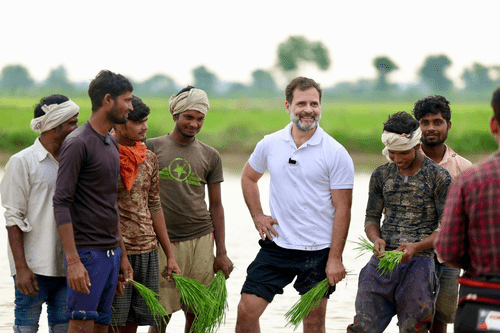 In a surprise move, former Congress president Rahul Gandhi on Saturday interacted with farmers in Haryana's Sonipat and joined them in planting paddy in the field.
Congress Rajya Sabha MP Imran Pratapgarhi told Thebetterandhra.com that Rahul Gandhi was on his way to Shimla when he suddenly decided to meet the farmers in Sonipat.
He stopped his vehicle, went to the farmlands, drove a tractor and also tried his hands in planting the rice paddy crop.
"Even after completing his Bharat Jodo Yatra, Rahul Gandhi continues to stay connected with the public," Pratapgarhi said.
According to party leaders, he also asked the farmers about the issues they are facing and about their earnings. However, Rahul Gandhi then returned to Delhi cancelling his Shimla trip due to bad weather, party sources said.
Congress General Secretary Randeep Singh Surjewala said that Rahul Gandhi visited. The Madina village in Gohana area of Sonepat and interacted with farmers and assured them of his support.
In a tweet, Surjewala said, "Rahul Gandhi reached the fields with farmers. This morning in Madina village of Gohana in Haryana. He planted paddy, and also talked to the farmers and labourers, inquired about their well-being, discussed agriculture, he drove a tractor, asked their problems and reiterated his resolution to fulfill the responsibility and his continuous support to them.
"This simplicity and public relation of Rahul ji is the biggest asset of all of us. Go ahead Rahul, the country is with you," the Rajya Sabha MP said.
Earlier also, the Congress leader surprised the people with his sudden visits among the public. In March, he visited the Bengali Market and Jama Masjid area in the national capital. Later, he went to Mukherjee Nagar area and interacted with UPSC aspirants.
Gandhi also went to Delhi University's PG men's hostel over lunch and. Then Haryana's Murthal and from there he took a truck ride till Ambala.
Recently, he had also visited a bike repairing shop in Karol Bagh area. In Delhi and interacted with the bike mechanics.
During his recent visit to the US, Gandhi had also taken a truck ride from New York to Washington DC. While in Karnataka during the Assembly elections, he had interacted with the delivery partners and took a scooter ride with them.
Rahul Gandhi had completed his 4,000 km Bharat Jodo Yatra from Tamil Nadu's Kanyakumari to Jammu and Kashmir's Srinagar. After his yatra concluded on January 30, he has been interacting with people.