News
Kharge, Rahul pay tributes to ex-Andhra CM Y.S. Rajasekhara Reddy on his 74th birth anniversary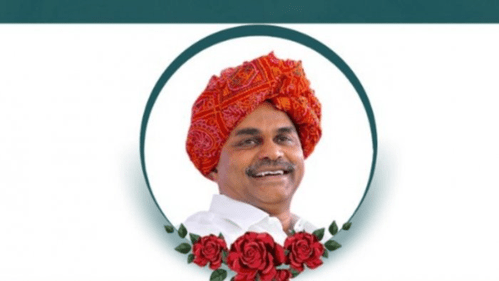 Congress President Mallikarjun Kharge and party leader Rahul Gandhi on Saturday paid tributes to former Andhra Pradesh Chief Minister Y.S. Rajasekhara Reddy on his 74th birth anniversary.
In a tweet, Kharge recalled the contributions of Reddy and said, "A compassionate leader of the people, he steered the development and welfare of Andhra Pradesh till his last breath. Our homage to former Chief Minister of Andhra Pradesh, Y. S. Rajasekhara Reddy on his birth anniversary. His contribution to public life and to the Congress party shall always be cherished."
Reddy entered active politics in 1978 and won the Pulivendula constituency same year. And became Minister of State for Rural Development (1980–82), and later shifted to Excise Minister (1982) and Education Minister (1982–83). He continued to retain the same constituency in 1983 and 1985, even when Nandamuri Taraka Rama Rao swept to power and the party fared badly in the latter, which saw Indira Gandhi making him State president of the party. He even continued the winning streak for Kadapa constituency for four terms in 9th, 10th, 11th, and 12th Lok Sabha. His return to state politics saw him winning 1999 Assembly elections from same Pulivendula constituency during which he served as Leader of Opposition in Andhra Pradesh
Paying tributes to Reddy, who played an important role for the party in the united Andhra Pradesh, former Congress chief Rahul Gandhi said, "My tributes to senior Congress leader and former Chief Minister of Andhra Pradesh, Y.S. Rajasekhara Reddy ji, on his birth anniversary. He was a visionary leader who devoted his life to the betterment of the people of Andhra Pradesh. He shall always be remembered."
Rajasekhara Reddy was born on July 8, 1949 and died in a helicopter crash on September 2, 2009. His birthday is observed as 'Rythu Dinotsavam' (Farmer's Day) in Andhra Pradesh.
The Congress leaders' homage to Reddy on his birth anniversary. Is being seen as a step to bring his daughter Y.S. Sharmila and her party YSRTP into the Congress fold.