News
Rain in Andhra, K taka: Tomato price touches Rs 170/kg in Chennai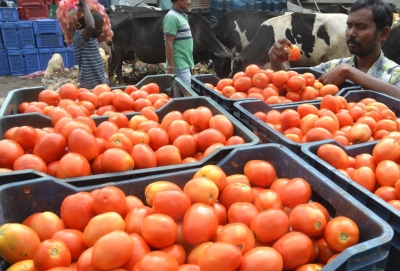 With a reduction in the quantity of tomatoes arriving in Chennai's Koyambedu market, South India's largest vegetable market, the price of tomatoes. Has touched Rs 170 per kilogram here and outskirts in the retail market. And the rain in Andhra Pradesh and Karnataka are being held responsible for this.
In the wholesale market, the price ranges from Rs 120 to Rs 130 per kilogram.
R.K. Kuppusamy, a wholesale trader of tomatoes and potatoes in Koyambedu market told Thebetterandhra.com that generally 800 tonnes  of tomato. Load reaches the market on alternate days and now this has sharply come down to 250 tonnes.
The reduced arrival of tomatoes, according to the merchants, is due to the destruction of crops. In Karnataka and Andhra Pradesh due to heavy rain for the past few weeks in the two states.
The consumption of tomato has also reduced as people prefer to shy away. From the vegetable due to the high prices.
Sheeba, a housewife in Ashok Nagar while speaking to Thebetterandhra.com said, "We have cut short tomatoes from our vegetable pack. If we feel like buying, we buy for Rs 50 and the purchase of. 1 kg of tomatoes is from the good old days."
Several traders also shared their predicament due to the rising prices of the vegetable. And the corresponding reduction in purchase of the vegetable.
Seethanath, a vegetable trader from Teynampet while speaking. To Thebetterandhra.com said, "It is very difficult for the retail businessmen to survive in this market. Tomato prices are oscillating and we have difficulties in selling the product. I don't know how to move ahead as most families have stopped buying it."
Across Tamil Nadu, tomato has turned costlier and with the advent of rain. In Karnataka and Andhra Pradesh, where the vegetable is cultivated in large quantities.
The Tamil Nadu government had started selling tomatoes at Rs 60 per kg through Public Distribution System (PDS) shops. However, consumers said that the quality of the tomatoes was poor and. That most who wanted to buy tomatoes depended upon the public market.
G. Manonamani, a housewife at Adayar in Chennai while speaking to Thebetterandhra.com said. The price of tomatoes has touched high and the government intervened by selling tomatoes through PDS shops. I am very sorry to say that it was better for the government not to sell tomatoes. As the quality of the product is too bad and we still prefer. To buy from retail markets even though price is on the higher side."
The traders are also worried that the soaring price of tomatoes would take away the consumers from the vegetable. The continuing rain in Andhra and Karnataka is a major problem that haunts the traders. As the volume of tomato that was coming to Kerala has dipped and this would continue. In the coming few weeks if product is not available at cultivating areas.
R .Najimuddeen, a wholesale trader in Koyambedu market while speaking. To Thebetterandhra.com said, "We feel that with continuing crop loss in Karnataka and Andhra.done, the market prices of tomatoes. Is likely to increase creating immense difficulties for both the traders and the consumers."