News
Tomato prices expected to come down with arrival of new crop: Govt informs Parliament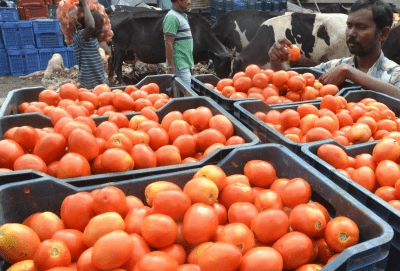 The central government on Friday informed Parliament that tomato prices are expected to come down with the increase in the arrival of new crop from Nasik, Naryangoan and Aurangabad belt in Maharashtra and also from Madhya Pradesh.
In a written response to a question in the Rajya Sabha, minister of state for consumer affairs. Ashwini Choubey said that tomatoes Parliament have been disposed initially at the retail price of Rs 90 per kg which has been reduced to Rs 80 per kg from July 16 and further reduced to Rs 70 per kg from July 20.
Current increase in tomato prices may incentivise farmers to grow more tomato crops. Which is expected to stabilise the prices in coming months, the minister replied.
Choubey further said that the consumer affairs department monitors the daily prices of 22 essential food commodities, including tomato.
The tomato arrived in India by the way of Portuguese explorers, in the 16th century. It was grown from the 18th century onwards for the British; even today, in Bengal, the alternative 
In order to check the current increase in prices of tomato and make it available to the consumers. At affordable prices, the government has started the procurement of tomatoes under price. Stabilisation fund and is making it available at a highly subsidised rate to consumers. 
The National Cooperative Consumers Federation (NCCF) and National Agricultural Cooperative Marketing Federation (NAFED) are continuously procuring tomato from mandis in Andhra Pradesh, Karnataka and Maharashtra and making it available at affordable prices in major consuming centres in Delhi-NCR, Bihar and Rajasthan among other places after subsidising the price to the consumers, he added.