News
When YSR asked Sajjan Jindal to train Jagan in business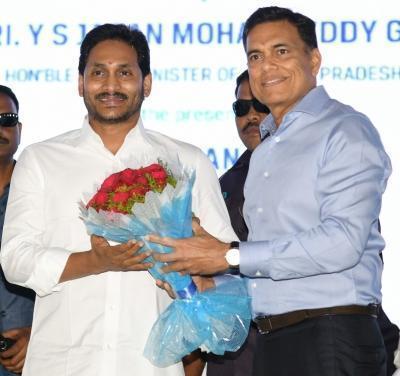 JSW Group Chairman Sajjan Jindal on Wednesday recalled how Andhra Pradesh Chief Minister Y.S. Jagan Mohan Reddy was sent to his office in Mumbai for training in business by the latter's father and then Chief Minister of united Andhra Pradesh, Y.S. Rajasekhara Reddy.
Jindal, who participated in the ground-breaking ceremony of the Kadapa Steel Plant (KSP) in YSR Kadapa district along with Jagan Mohan Reddy, narrated an incident that took place 17 years ago.
Paying tributes to late YSR, Jindal said he was a personal friend and his mentor as far as Andhra Pradesh was concerned.
He recalled his first meeting with Jagan Mohan Reddy about 17 years ago when he was a young boy.
"YSR told me that you have to take him to Mumbai and train how to run a business. He came there to my office. I now feel I have returned home here to establish the steel plant," Jindal said.
Jindal also hailed the leadership of Jagan Mohan Reddy, saying the young leader is following the path of his father and working for the development of the state with commitment.
The JSW Group Chairman claimed that everyone is talking about Andhra Pradesh, which has been growing at the fastest rate for three years. He said this growth has been possible due to the dedication and commitment of Jagan Mohan Reddy
The industrialist said that the Chief Minister is committed to the upliftment of people and the only goal in his life is to improve the lives of the people of his state.
Jindal also praised Jagan Mohan Reddy for transforming the state with better administration and digitalisation.
"When I met him over lunch in Vijayawada last time for one hour or so, he had explained about the fantastic welfare schemes being implemented in the state. Though I failed to grasp them fully, I felt as if the words came from the mouth of god," said Jindal.
Jindal told the gathering that he wants to build a world-class steel plant in Kadapa, which will operate on green fuel and will be the greenest steel plant.
"I want to create a model steel plant," he said, adding that though it will begin as a small plant, it would grow in course of time like the other steel plants established by JSW, and cater to the all-round development of the surrounding areas.
He hoped that the Kadapa district would become the steel district of India sometime in future.
Jindal also pointed out that in Bellay, JSW set up a steel plant in 1995 with a capacity of 1.5 million tonnes, which has now increased to 13 million tonness and in next three years, it will become the world's largest at 25 million tonnes.