News
Railway track damaged due to derailment near Hyderabad restored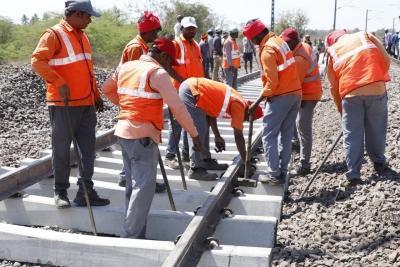 The South Central Railway (SCR) has restored a railway track which was damaged due to derailment of Visakhapatnam-Hyderabad Godavari Express on Wednesday morning between Bibinagar and Ghatkesar railway stations.
After clearing the derailed coaches from the section, railways have completed the restoration works with respect to both track and over-head power supply.
The movement of trains has now been restored between Secunderabad and Kazipet. Train number 17229 (Trivandrum Central to Secunderabad Sabari Express) was the first train to pass the section at 9.15 p.m.
Four sleeper class coaches of Godavari Express from S4 to S1, one general coach and the Luggage cum Brake Van of the train got derailed around 06.10 hrs. No one was injured in the incident.
According to SCR officials, the remaining portion of the train consisting of 16 coaches was unaffected.
After receipt of the information, Accident Relief Train (ART) and Medical Relief Van (MRV) rushed to the spot along with a team of railway officials including medical staff to undertake relief and restoration works. The railway and medical staff checked the passengers for emergency medical and other requirements on board. After a thorough check up, it was found that no passengers were hurt.
Passengers in derailed coaches were shifted to the unaffected coaches and the train consisting of unaffected coaches along with the passengers left the spot at about 7.40 a.m. and arrived at Secunderabad Station at around 8.40 a.m.
SCR General Manager Arun Kumar Jain and DRM, Secunderabad Division, A.K. Gupta, along with their team rushed to the spot and personally monitored the relief and restoration works at the derailment spot.
Due to derailment and blocking of one of the two lines on the section, nine trains were cancelled, 19 trains partially cancelled, seven trains rescheduled and six trains were diverted.