News
Voting begins for Tripura Assembly polls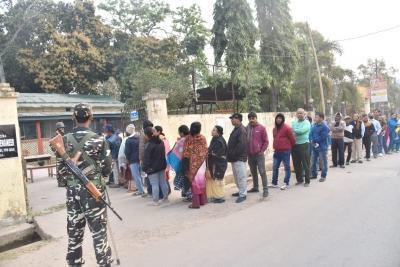 The voting for the Tripura Assembly elections began on Thursday morning amid tight security measures, election officials said.
Men and women in large numbers queued up in front of polling stations before the voting at 60 Assembly seats started at 7 a.m.
The polling would continue till 4 p.m. without any break.
Tripura Chief Electoral Officer (CEO) Gitte Kirankumar Dinkarrao said that a total of 259 candidates, including 31 women, are testing their electoral fortunes in the elections.
The CEO said that of the 259 candidates, the highest number of 55 candidates have been put up by the ruling BJP, followed by CPI(M) (43), Tipra Motha Party (42), Trinamool Congress (28), and Congress (13).
A total of 58 Independent candidates and 14 nominees from various smaller parties are also contesting the elections.
Around 31,000 polling personnel would take the votes in 3,327 polling stations in 2504 locations.
In all, 28.14 lakh voters including 13.99 lakh women electorate are eligible to cast their votes in Thursday's balloting.
A senior police officer said the Ministry of Home Affairs has provided 400 companies (30,000 security personnel) of Central Armed Police Force (CAPF) comprising various para-military forces while around 9,000 Tripura State Rifles jawans and over 6,000 Tripura police personnel have also been deployed to hold a fair and violence free elections.