Politics
Andhra Pradesh CM meets PM Modi, seeks funds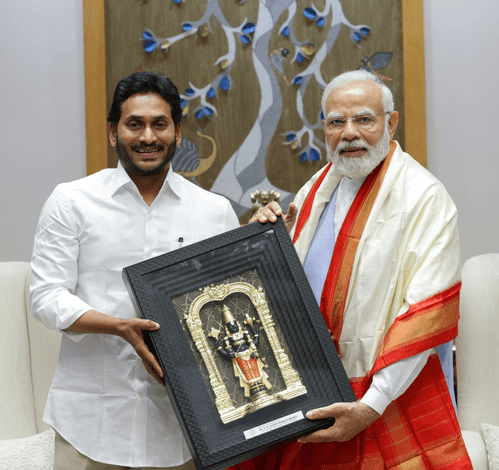 Andhra Pradesh Chief Minister Y. S. Jagan Mohan Reddy called on Prime Minister Narendra Modi in New Delhi on Wednesday and urged him to release pending funds and expedite several issues including those related to state bifurcation.
Apart from seeking funds for the construction of new medical colleges, completing the Polavaram project and correcting the loopholes in the implementation of National Food Security Act, he also urged the Prime Minister to fulfill the promises given to the residual state of Andhra Pradesh following bifurcation.
According to the Chief Minister's Office (CMO), before holding discussions with the Prime Minister for one hour and twenty minutes, the Chief Minister also held a 45-minute meeting with Home Minister Amit Shah.
After meeting the Prime Minister, he also called on Finance Minister Nirmala Sitharaman and discussed various issues related to the state.
In a memorandum submitted to the Prime Minister, he appealed to accept. The revised estimates of Rs 55,548.87 crore for the Polavaram Project and release Rs. 17,144 crores on priority basis to expedite the first phase.
This includes R & R package for the displaced persons in 36 villages.
Unless the funds for R & R package are released, the first phase remains incomplete, he said, and urged the Prime Minister to issue instructions to the Jal Shakti Ministry to release the amount at the earliest.
He also appealed to reimburse the arrears of Rs 1,310.15 crore incurred by the state government on Polavaram Project.
The Chief Minister also appealed to the Prime Minister to take immediate. Steps to ensure that the Telangana government clears Rs 7,230.14 crore outstanding from the TS Discoms to APGENCO for the power supplied between 2014 and 2017.
He also told the Prime Minister that the state has been incurring. Additional financial burden of Rs 5,527 crore on supplying ration to 56 lakh families every year under. The PMGKAY due to irrational selection of beneficiaries under National Food Security Act.
To compensate for this, the Centre should supply 77,000 metric tons. Of rice from unused ration stocks of 1 lakh tons every month to AP.
The Andhra Chief Minister also urged him to implement the promise of granting special status. To the state as it helps in quick industrial development and provides employment opportunities to the youth.
Noting that the state government is constructing 17 new medical colleges as the number. Of districts has gone up to 26 from 13, he sought financial support to go ahead with the work.
The construction of medical colleges is in full swing, he said.
He also sought directions to the Ministry of Mines to allot three mines. To the APMDC to cater to the raw material needs of the steel plant in YSR Kadapa district.
The Chief Minister also sought immediate release of Rs. 1,702.90 crore towards subsidy outstanding to the AP Civil Supplies Corporation from 2012-13 to 2017-18.