Politics
Andhra Pradesh under 'psycho rule', says Chandrababu Naidu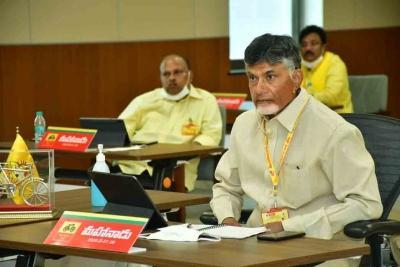 The people of Andhra Pradesh have been suffering a lot for the past four years ever since Jagan Mohan Reddy became the Chief Minister, and the state is now witnessing "psycho rule", TDP national President, N. Chandrababu Naidu said on Thursday.
Calling the Chief Minister a psycho, Naidu alleged that he is feeling happy when people are facing difficulties.
The Telugu Desam Party (TDP) leader and former Chief Minister was addressing people at Peddapuram in Kakinada district.
Maintaining that the power charges were not revised even during the state's bifurcation, Naidu said that the Jagan government has the credit of increasing power tariff at least for seven times. "Now the prices of even the essential commodities too are skyrocketing and Mr Jagan has imposed 48 varieties of taxes on the people," he noted.
All sections of people are not happy with the government and if Jagan introduces a scheme it will have full scams, he stated. Liquor has all kinds of 'J' brands while sand has now become gold while land mafia is ruling the roost, he claimed.
"The youth now believe that if Babu comes back to power they get jobs and even the students trust this," he said.
He alleged that the state government has been frequently changing tack on Amaravati. "The other day Mr Jagan stated in New Delhi that Visakhapatnam will soon be the State capital while the Minister, Mr Buggana Rajendranath Reddy, denied the three capital argument and immediately after this the advisor to the government, Mr Sajjala Ramakrishna Reddy again raised the three capital slogan. Who is correct," Naidu asked.
The TDP supremo asked as to why Jagan did not speak about the three capitals before the 2019 elections and pointed out that again in 2021 the state government withdrew the bill on three capitals.