Politics
Andhra, Telangana ministers trade barbs over education system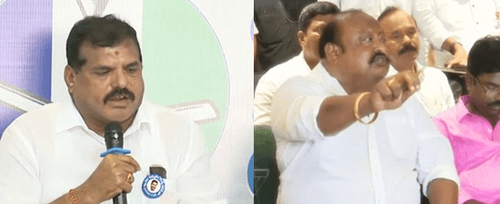 A war of words broke out Thursday between ministers of the Telugu states after some comments made by Andhra Pradesh's education minister Botsa Satyanarayana about the education system in Telangana evoked strong reaction from Telangana ministers.
Both the sides traded barbs and taunted each other. It all started in the morning when Botsa Satyanarayana remarked that the educational system of Andhra Pradesh should not be compared with Telangana.
"We are daily seeing copying and scams there. They are even unable to transfer teachers. We have our own policy and our own thinking," he remarked.
The Andhra Pradesh minister's remark evoked angry reaction from Telangana civil supplies minister Gangula Kamalakar who alleged that even after Telangana became a separate state, Botsa was spewing venom against Telangana.
He demanded immediate dismissal of Botsa.
"If Jagan Mohan Reddy government is not behind this, it should take action against him," Kamalakar said.
Stating that the Telangana government arrested those involved in irregularities in Telangana State Public Service Commission (TSPSC), Kamalakar said Andhra Pradesh MLAs and members of APPSC were selling government jobs.
He asked Botsa to enter Hyderabad only after answering if the Andhra Pradesh. Government arrested even one person involved in selling jobs. 
Another Telangana minister Srinivas Goud lashed out at Botsa, saying he passed exams by copying.
He said Botsa made the remarks out of jealousy and spite for Telangana. Goud said the Andhra Pradesh minister should know that students from Andhra Pradesh approached the court to request that they be allowed to continue education in Telangana.
"You are in a situation where a student appearing in an exam can't answer. Where the Andhra Pradesh state capital is," remarked Goud. 
The Telangana Excise Minister said that since scams took place in APPSC, Botsa was imagining the same in other states.
He recalled that in undivided Andhra Pradesh suitcases full of money were changing hands for transfers. Goud remarked that Botsa's children were also staying in Telangana.
He warned that if Telangana is insulted, they would not keep quiet.
Stating that Bharat Rashtra Samithi (BRS) is expanding in Andhra Pradesh, the minister said. If BRS is given power it would develop Andhra Pradesh like it developed Telangana.