Politics
Andhra Women s panel issues notice to Pawan Kalyan on human trafficking claim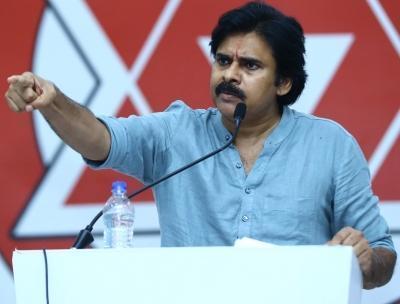 Andhra Pradesh Women s Commission on Monday served a notice to actor-politician Pawan Kalyan for his controversial statement linking the volunteer system introduced by the statement government with human trafficking.
A day after the Jana Sena Party (JSP) leader alleged that the state's women and girls were in danger through the volunteer system, the state Women's Commission served him a notice, asking him to submit evidence in support of his allegations to the Commission in 10 days.
Addressing a public meeting at Eluru on Sunday night, Pawan Kalyan had alleged that the data being collected by volunteers from women in villages and towns is leading to human trafficking.
He said that volunteers are collecting data from every family and the information is being misused to perpetrate crimes, including human trafficking.
He stated that Central intelligence officials in New Delhi told him that there was massive human trafficking in Andhra Pradesh and the state's women and girls were in danger through the volunteer system.
Stating that approximately 30,000 girls and women had gone missing in 2019-20, he said only 14,000 of them returned home.
"What happened to the rest,'' he asked and wanted to know. If the Chief Minister had discussed about missing girls with the DGP. He said that this was a serious issue and could not be brushed aside lightly.
Women's Commission chairperson Vasireddy Padma stated in the notice. Served to Pawan Kalyan that remarks amount to violating the dignity of single women. "How many single women were handed over to anti-social elements by the volunteers? What is the number the Centre has told you? Did the Centre share evidence with you," she asked.
The Commission chairperson asked Pawan Kalyan if he was creating panic. Among women by making baseless allegations for the sake of politics. She asked the actor-politician to provide to the Commission the number of missing women and the evidence in 10 days.
This is the second time that the Women's Commission has issued notice to Pawan Kalyan. In October last year, the panel had served a notice for his reported remarks about his three marriages.
Taking a serious view of JSP leader's alleged remarks, the Commission. Had asked him to withdraw the same and apologise to women.
Vasireddy Padma said that by making the remarks Pawan Kalyan. Has given a message that a man can divorce his wife by giving her alimony. She said the actor should apologise to the womenfolk for making those insulting comments.
 "How can you say that I married three women by paying crores. Of rupees as alimony and challenging others to do it if  they can," it asked.