News
7 killed as bus falls into canal in Andhra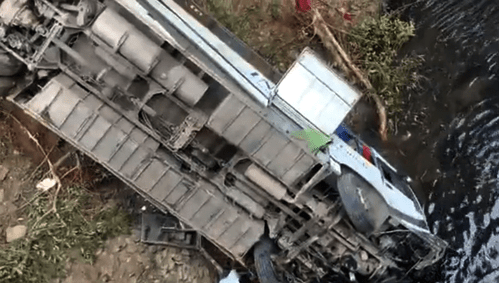 Seven persons, including a child, were killed and 12 others injured when a bus carrying a marriage party plunged into a canal in Andhra Pradesh's Prakasam district on Tuesday, police said.
The bus, which was on its way to Kakinada from Podili, plunged into the Sagar canal near Darshi.
There were 35 to 40 people onboard.
They were going to Kakinada to attend a marriage function.
Police, which rushed to the spot, launched rescue and relief operations in coordination with other departments.
According to police, a bus of state-owned. Andhra Pradesh State Road Transport Corporation (APSRTC) was taken on rent for the travel.
The bus driver apparently dozed off at the wheel resulting in the mishap.
The deceased were identified as Abdul Aziz (65), Abdul Hani (60), Sheikh Rameez (48), Mulla Noor Jahan (58), Mulla Jani Begum (65), Sheikh Shabeena (35) and Sheikh Hina (6).