Politics
Pawan Kalyan backs BJP over backward class CM promise in Telangana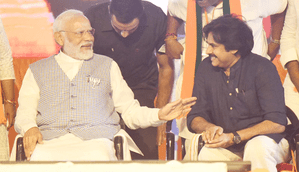 Jana Sena Party (JSP) leader and Tollywood actor Pawan Kalyan on Tuesday backed BJP's promise to make a leader from the backward class (BC) the Chief Minister of Telangana if the party is voted to power after the November 30 elections.
Sharing the stage with Prime Minister Narendra Modi at a public meeting of the BJP here, the actor-politician said that Jana Sena extends full support to the BJP for its promise to make a BC representative the Chief Minister if voted to power in Telangana.
He said that by making the promise, the BJP has shown its sincerity for the development of backward classes and to ensure social justice.
Pawan Kalyan also showered praise on Modi, describing him as a strong leader who has made India and every Indian proud.
He said Modi should become the Prime Minister for a third term to steer India towards achieving its 2047 vision of becoming a developed nation.
Pawan Kalyan, who was sharing the dais with Modi after nine years, listed out India's major achievements under the PM's leadership.
He said if Modi had worked with elections in mind, he would not have achieved to scrap Article 370, ban triple talaq, build the Ram temple, pass the women's reservation Bill or implement demonetisation.
Pawan Kalyan said after Modi became the Prime Minister, India firmly dealt with terrorists and sent a clear message that if attacks are carried out from across the border, India will enter their territory to give a befitting reply.