Politics
Purandeswari finally reacts to her appointment as Andhra Pradesh BJP chief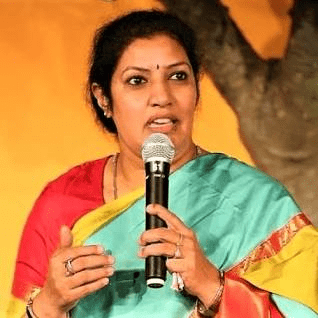 After remaining silent for two days, former Union minister Daggubati Purandeswari has reacted to her appointment as BJP's Andhra Pradesh unit president.
She met BJP President J.P. Nadda in New Delhi on Thursday. She tweeted that she expressed her heartfelt gratitude for the trust imposed on her. "I assured him of my unwavering commitment towards the responsibility. Even as I work to strengthen BJP in AP, I shall also work towards safeguarding the interests of AP and Andhrites," she said
Her silence had triggered speculations in political circles that she may not be happy with the assignment given to her.
The former Union minister was named state BJP chief on July 4 along with the appointment of new state chiefs for Telangana, Jharkhand and Punjab.
While others had reacted to the new responsibility given by the party, Purandeswari had remained silent, sparking speculations. However, those who know her point out that unlike other leaders, she is not known for rushing to the media with her reactions.
According to them, she talks less and whenever she speaks publicly she is very cautious.
Purandeswari, the daughter of former chief minister and Telugu Desam Party (TDP) president, N.T. Rama Rao, is known in political circles for conducting herself in a dignified manner and not using harsh words to express her views or even criticise her political rivals.
Political analysts say while Purandeswari might have been expecting a post of minister or governor, she did not have any other option but to accept the responsibility given to her.
"Having lost Lok Sabha elections twice on the BJP ticket, she may not be comfortable in the position of the party's state president," says political analyst P. Pavan.
Though her appointment is seen as an attempt by BJP to check TDP president N. Chandrababu Naidu, who is her brother-in-law, the analyst does not agree with this view. He points out that there is no animosity between Purandeswari and Naidu.
Last year, Purandeswari had come out in support of Naidu. When some leaders of YSR Congress Party (YSRCP) had made certain objectionable remarks about his son Lokesh.
Her appointment as state BJP chief came at a time when Chandrababu Naidu, who is husband of Purandeswari's sister Bhuvaneswari, is keen to revive his alliance with the BJP for elections scheduled next year.
Purandeswari's appointment has been welcomed even by leaders of rival parties. State minister and YSRCP leader Roja said she welcomed the appointment of a woman as BJP president. Roja, a former actress, however, said it was sad that none of the family members of NTR were taking reins of the party founded by him.
"NTR's fans would have been happy if Purandeswari had taken control of TDP," she said.
Senior Congress leader and former minister U. Arun Kumar refused to comment politically on her appointment but praised her at personal level. "She is soft-spoken and treats others with respect," he said.
Purandeswari and her husband Daggubati Venkateswara Rao, who was then a Rajya Sabha member, had backed Chandrababu Naidu in the 1995 coup against NTR. They later came back to NTR. At that time Purandeswari was politically not active. After NTR's death, her husband remained with NTR TDP (LP) for some time. In 1999, he joined Anna TDP floated by Harikrishna. After the party's humiliating defeat, he stayed away from politics for a few years. In 2004, the couple joined the Congress party.
She was elected twice to Lok Sabha on Congress ticket and became a minister in the UPA government.
Unhappy with the bifurcation of Andhra Pradesh, Purandeswari and her husband quit the Congress party in 2014.
The BJP fielded him from Rajampet Lok Sabha seat in 2014 but she lost to YSRCP's P. V. Midhun Reddy. She contested from Visakhapatnam Lok Sabha constituency in 2019 but finished a poor fourth.
In BJP she held the posts of national general secretary and president of Mahila Morcha. She was also made the party in-charge for Odisha.