Politics
TDP MLAs suspended from Andhra Assembly for protest over Naidu s arrest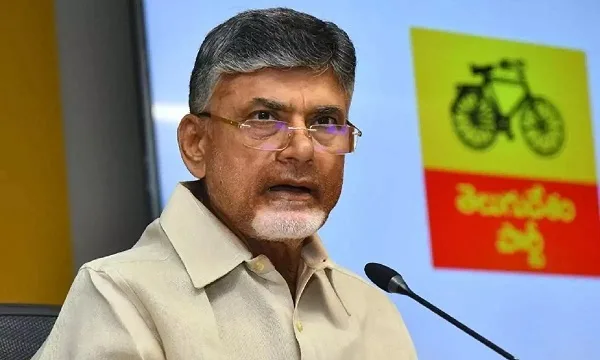 T elugu Desam Party (TDP) MLAs were suspended from Andhra Pradesh Assembly on Thursday for stalling the proceedings of the House to protest against the arrest of their party's national president and former Chief Minister N Chandrababu Naidu in an alleged skill development scam.
Speaker T Seetharam announced suspension of 15 MLAs of the main Opposition party from the House for one day. He also suspended three members for the rest of the session.
The Speaker announced that he was suspending P Keshav, A Satyaprasad and Sridhar Reddy for the rest of the session for showing disrespect to the Chair.
As soon as the session began on Thursday morning, the TDP members were on their feet demanding a debate on Naidu's arrest.
When the Speaker rejected their adjournment motion, they trooped into the Well of the House and later surrounded the Speaker's podium.
Carrying placards and raising slogans, the Opposition legislators insisted that the Speaker take up the issue of Naidu's 'illegal' arrest.
There was uproar when TDP MLA and actor N Balakrishna twirled his moustache. While allegedly warning the YSR Congress Party (YSRCP) government.
Taking strong exception to his action, Minister for Water Resources Ambati Rambabu reminded him that he is in the Legislature and not in a film. The Speaker said that his action amounted to showing disrespect to the Chair. He warned the MLA that if he resorted to similar action in future, action would be taken against him.
Amid pandemonium, the Speaker adjourned the House for some time. When the House re-assembled, the TDP members continued their protest. On a motion moved by the government, the Speaker suspended the TDP MLAs.
After suspension, the MLAs sat in protest outside the Assembly. They said they would continue to raise their voice against the 'illegal' arrest of Naidu.
The TDP also staged a protest in the Legislative Council. The legislators demanded debate on the TDP supremo's arrest. Amid the protest, the Council's chairman adjourned the House.
Earlier, the party legislators took out a padyatra from Thullur Police Station to the state Legislature before the commencement of the session.
After paying tributes to TDP founder and former Chief Minister NT Rama Rao at his statue. At Venkatapalem, the TDP MLAs and MLCs left for the Assembly.
Holding placards, they raised slogans condemning Naidu's 'illegal' arrest in a skill development case.