Politics
TDP office near Vijayawada attacked by YSRCP MLA's supporters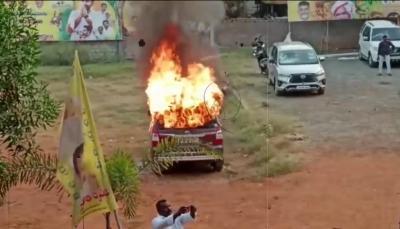 The office of Andhra Pradesh's opposition Telugu Desam Party (TDP) at Gannavaram near Vijayawada was attacked and vandalised, allegedly by the supporters of local MLA Vallabhaneni Vamsi of the ruling YSR Congress, on Monday.
Scores of attackers set ablaze a car in the office premises and ransacked the office furniture and other items.
Supporters of Vamsi were enraged over the criticism of their leader by some TDP leaders. The leaders of the opposition parties had hit back at the MLA after he made a personal attack on TDP President and former Chief Minister N. Chandrababu Naidu and his son Nara Lokesh.
The MLA's supporters had allegedly made threatening phone calls to TDP Secretary Dontu Chinna in the morning, and tried to attack his house in the afternoon.
In the evening, Vamsi's supporters went on rampage at the TDP office, setting afire vehicles and ransacking the office.
The attack triggered high tension in the area. Workers of the TDP and the YSRCP gathered on Chennai-Kolkata highway and attacked each other with sticks and stones. Police dispersed the clashing group. TDP workers staged a sit-in on the highway, leading to a massive traffic jam.
Vamsi was elected to the Assembly from Gannaveram on a TDP ticket in 2019. He later defected to the YSR Congress Party.
Meanwhile, TDP national spokesperson Kommareddy Pattabhiram's wife Chandana has alleged that he was arrested by the police when he went to the TDP office after the attack. She alleged that Pattabhi's car was also found damaged on the road.
"If anything happens to my husband, the Chief Minister, Mr Jagan Mohan Reddy, and the Director General of Police will be held responsible," she said.
"The car driver and the personal assistant of my husband are at the local police station but my husband is missing. I have absolutely no knowledge of where the police have shifted him," she said.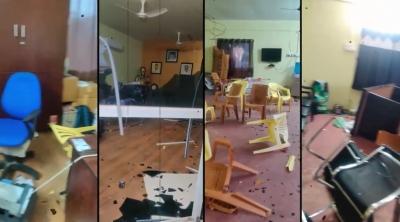 Chandrababu Naidu on Monday demanded the Governor's intervention into the atrocities being indulged in by the ruling YSRCP leaders.
Strongly condemning the attack on the Gannavaram TDP office by the YSRCP goons and setting fire to the party vehicles, Naidu said that Chief Minister Jagan Mohan Reddy, will certainly fall victim to his "barbarous acts". What are the police doing when the ruling YSRCP leaders are indulging in such heinous acts, he asked.
Observing that there is no law and order in the state, Chandrababu Naidu expressed surprise whether the police department is totally closed or merged into YSRCP. "Monday's incidents are classic example of the faction mindset of Mr Jagan Mohan Reddy," he said and demanded that Governor intervene and initiate stringent action against the culprits.