Politics
Vijayashanthi quits BJP, likely to join Congress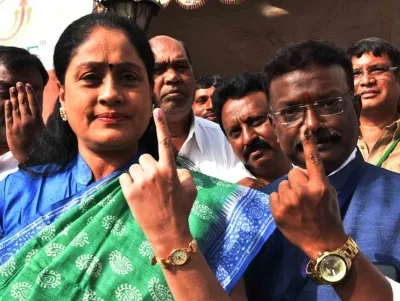 In yet another big blow to the BJP just two weeks before the Telangana Assembly elections, veteran actor and National Executive member M. Vijayashanthi resigned from the party on Wednesday.
She is likely to join the Congress in a day or two.
Vijayashanthi, who was not actively participating in party activities for the last few months, sent her resignation to state BJP chief G. Kishan Reddy.
The former MP is likely to join the Congress on Friday in the presence of Congress leader Rahul Gandhi. She is the fourth key leader to quit the BJP in less than a month.
Former MPs Komatireddy Rajagopal Reddy and G. Vivekanand and another leader Enugu Ravinder had quit the BJP. Rajagopal Reddy and Vivekanand joined the Congress.
It was in December 2020 that Vijayashanthi had returned to the BJP after 15 years. Popular as 'Lady Amitabh' for her action roles in Telugu films, Vijayashanthi had joined the BJP in 1997 and served as General Secretary of the party's women's wing.
She quit the BJP in 2005 to float a separate outfit, Talli Telangana, to fight for separate statehood for Telangana. She later merged Talli Telangana with TRS (now BRS) and was elected to the Lok Sabha from the Medak constituency in 2009.
In August 2013, a few months before the formation of Telangana state, the TRS suspended Vijayashanthi for anti-party activities. She later joined the Congress and unsuccessfully contested from the Medak Assembly constituency in the 2014 polls.
After lying low for four years, Vijayashanthi again became active in Congress in 2017 and was named its star campaigner for the party in 2018 Assembly polls. After the party's debacle, she was not active in the party and returned to the BJP in 2020.
Vijayashanthi, whose film career spans nearly four decades, has acted in over 180 films in Telugu, Tamil, Malayalam, Kannada, and Hindi. Her movie appearances had become rare from 1999 after she started focusing on politics. After a sabbatical of 13 years, she returned to silver screen in 2020 with "Sarileru Neekevvaru", which stars popular actor Mahesh Babu in the lead.