Sports
Experts back KS Bharat to be India's preferred wicket-keeping option for Tests against Australia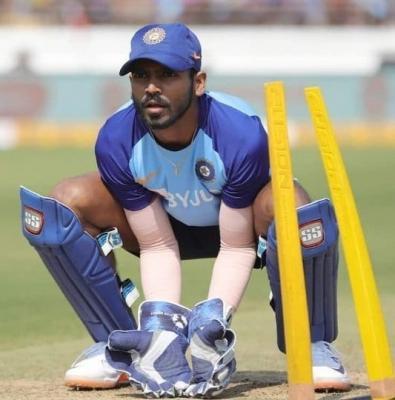 With Rishabh Pant ruled out of cricketing action for an indefinite period, India is without the belligerent left-handed batter who would rescue the side from troubling situations through his counterattacking knocks and have an effective yet cheerful presence while on keeping duties.
The absence of Pant means India must now choose between two uncapped wicketkeeper-batters — KS Bharat and Ishan Kishan — for the upcoming Test series against Australia, starting from February 9 in Nagpur.
Bharat has been an understudy to Saha and then Pant in the Test team since 2019 apart from being a regular in India A side. Kishan kept wickets for the Indian team in this year's white-ball games against New Zealand and Sri Lanka (barring ODIs). He also kept wickets for India A in two unofficial four-day matches on the tour of South Africa in 2021.
MSK Prasad, former chairman of the senior men's selection committee, opined Bharat must be given a chance as he has been groomed for the Test spot, especially when keeping wickets in home conditions in mind.
"You need to have a keeper who can keep wickets well and then who can contribute with the bat in the tried and tested Indian conditions time and again, especially when you have bowlers like Ashwin, Jadeja, Axar. So, I think it's a fair call to start off with KS Bharat and give him some opportunities as for the last two-three years, he's been waiting in the wings for this spot," he said toThebetterandhra.com.
Bharat had given an excellent account of his wicket-keeping skills during the Kanpur Test against New Zealand in 2021. Coming in as a substitute keeper due to Wriddhiman Saha having a stiff neck, Bharat took a good low catch to dismiss a well-set Will Young off Ravichandran Ashwin and took a lovely catch of Ross Taylor off Axar Patel. He showed good alertness and athleticism to stump Tom Latham short of his crease off Axar's bowling.
Prasad, who played six Tests and 19 ODIs for India, remembers the time when he saw Bharat as an 11-year-old kid while playing for Andhra. "As a wicketkeeper, he always had a very good and soft pair of hands, very similar to Wriddhiman Saha. Whenever we used to play Ranji Trophy matches in Visakhapatnam, I used to see this small kid keeping wickets. I ensured he would keep wickets in my nets and since then, I have been seeing him."
But it is Bharat's development as a batter which makes Prasad believe he can be a good fit in the Test team. In 86 first-class matches, Bharat has made 4707 runs, averaging 37.95 and holds the distinction of being the first player to score a triple century in the Ranji Trophy as a wicketkeeper, apart from taking 296 catches and effecting 35 stumpings.
"He's been a very good keeper and subsequently, developed himself as a very good batsman and even got a triple hundred in domestic cricket (308 against Goa in 2015). He has scored quite a few centuries for India A against Australia A, South Africa A. This is exactly what he was groomed for, especially in the Test format. He fits in very well and with opportunities coming his way, it is up to him how he grabs it with both hands."
Former India wicketkeeper-batter Deep Dasgupta thinks Bharat should be the preferred keeper-batter for Tests against Australia while expressing confidence in the abilities of Kishan. "To start off with Bharat, as he's been an understudy for a while now. I think Bharat is a good enough batter and Ishan is also a good enough keeper."
"I don't think that is what I am thinking of (better keeper v better batter) while deciding because I have confidence in both these guys. One has maybe a little bit of edge in a certain facet. But I don't think that's the deal-breaker for me."
"What I feel is important is the plans which have been in place for a good six months, which is KS Bharat in red-ball cricket, who is your second in line after Rishabh, who is not available. If that's the plan, you got to stick with the plan because what's the point of the plan if you don't stick with it," he said toThebetterandhra.com.
Prasad feels Kishan, who has amassed 2985 runs in 48 first-class matches and averages 38.76 apart from 99 catches and 11 stumpings, will have to wait for his chance in Tests. "Even Ishan has got a good pair of hands and is a very aggressive batter too. But I understand that as far as white-ball cricket is concerned. In domestic red-ball cricket, he even hit 280 or 300 also (273 against Delhi in 2016)."
"He has to keep waiting for his opportunity, just like how KS Bharat has waited for his opportunities when he's been a deputy to Saha or Pant. There's no doubt that Ishan is a good wicketkeeper-batsman, but he has to wait for his opportunities."
Amidst the Bharat-Ishan toss-up, the absence of Pant is unquestionably a big setback to India's plans of continuing its domination in home conditions. Since 2020, Pant has scored the most runs for India in Tests, amassing 1517 runs in 38 innings, averaging 43.3, which swells to 62.4 when facing Australia.
"Very unfortunate (his absence). We know how important Rishabh Pant is, especially against the Australians, both at home and in Australia. We saw his exploits and heroics; it's a big loss for us from team and country point of view and also, individually from Rishabh's point of view. It's a huge loss, as we know Australians get a little worried about what Rishabh can do in the middle," added Prasad.
"He's one of the biggest match-winners, at least in this format across the world. I can't think of too many guys who can do what he does in terms of winning games. So, undoubtedly, that's a huge blow," concluded Dasgupta.