Sports
Hyderabad E Prix: Jaguar's Mitch Evans seals pole position in qualifying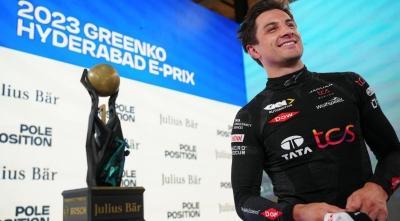 Mitch Evans of Jaguar TCS Racing sealed Pole Position for the inaugural Greenko Hyderabad E-Prix by the slimmest of margins — moving past the DS Penske' Jean-Eric Vergne by just 0.021 seconds after the end of the qualifying race here on Saturday.
While the home team Mahindra Racing driver Lucas Di Grassi wouldn't make it to the Duels and wound up last, with teammate Oliver Rowland seventh in Group A.
Mahindra Racing– one of the founding teams — is the only Indian team to compete in the ABB FIA Formula E World Championship
Jaguar powertrains led both practice sessions and qualifying here. Evans' benchmark also made it seven different pole sitters in seven races — a record that had stretched back to Season 5.
Formula E introduced a new qualifying format last year called the 'Duels format'.
As per the dual format, the Group stage sees two groups of 11 drivers, ordered based on their Drivers' World Championship position, battling to set lap times each in a 10-minute session, with the fastest four from each progressing into the quarterfinals.
The two winners from each group then compete against one another head to head in a knockout at 350kW over the last eight into the semifinals. Then, the eventual quickest from each group faces off in the Final Duel.
The winning driver of the final duel takes Pole Position, while the runner-up lines up second.
The semifinalists will line up third and fourth, and the quarterfinalists between fifth and eighth – according to their lap times.
The fifth to 12th-placed drivers who competed in the polesitter's group will fill the odd positions on the grid.
The corresponding drivers from the other group will be classified in the even grid slots. So, if the polesitter comes from Group 1, the fifth-placed driver in Group 1 will line up ninth on the starting grid and the fifth-placed driver in Group 2 takes 10th and so on.
Evans and Sebastien Buemi of envision racing was the only on-track contest of the semifinal with track limits violations in the quarterfinal seeing Vergne progress to the final unchallenged. Evans looked relatively comfortable over the lap, and saw off the Buemi by a quarter of a second.
Vergne made it through even after getting beaten by Jaguar TCS Racing's Sam Bird on-track. Track limits came into it in a big way, though, and the Brit had his time removed, much to his frustration, as did Rene Rast (NEOM McLaren) and Edo Mortara (Maserati MSG Racing) in the fourth quarterfinal.
All that meant the Vergne was promoted to the final, and ultimately second on the grid – beaten by the smallest deficit this season.
Championship leader Pascal Wherlein of Porche missed out on qualifying for the knockout stages after having a massive crash in the first free practice on Friday.