Technology
Google adds PDF annotation with stylus, finger in Drive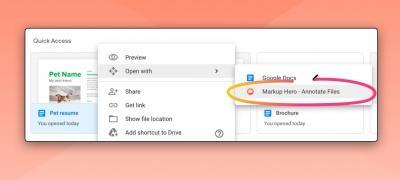 Google has added the ability to annotate PDFs using a stylus or finger in its cloud service Drive on Android.
According to 9to5Google, users will be able to freely write annotations on a file shown in the Drive preview screen on Android devices by using their finger or a stylus.
To use the PDF annotate feature, users on their Android devices will need to open the Google Drive app.
To enter the preview mode, users will need to open the PDF they would like to annotate.
After that, at the bottom right corner, tap the annotate button.
A toolbar opens with multiple annotating tools. Users can use a stylus or their finger to select an annotating tool.
Moreover, the report mentioned that the available tools include a pen and highlighter with different brush sizes, as well as colours.
An eraser (for individual lines) and undo/redo will also be available. Users will also be able to show and hide annotations without erasing them.
Further, by tapping and holding, the toolbar can be snapped to any side of the screen. Users can then save the annotations to the original PDF or create a new copy with everything.
The PDF Annotate feature of Google Drive is not yet available on a number of Android devices. Wide availability is expected over the coming weeks, said the report.