Sports
Indian Open: Shot putter Tajinderpal Singh Toor wins gold, makes Asian Games cut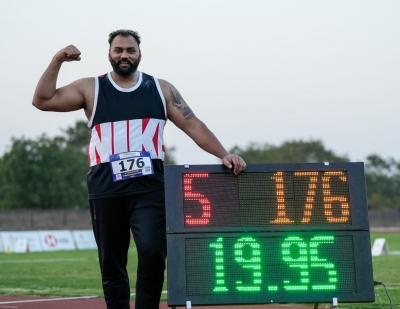 Star shot-putter Tajinderpal Singh Toor on Wednesday clinched gold on the opening day of the 2nd Indian Open Throws and Jumps Competition after breaking the meet record with a throw of 19.95 metres at the Inspire Institute of Sport (IIS), here.
With his stunning performance, Toor also qualified for a spot in the Asian Games by breaching the 19 metres mark, which is the qualifying standard for the Asian Games set by the Athletics Federation of India (AFI) in men's shot put.
The silver medal was clinched by the new star on the circuit Karanveer Singh with a throw of 19.54 metres who also breached the qualification standard set by AFI to make the cut for the Asian Games. The bronze medal was bagged by Sahib Singh with a throw of 18.77 metres.
"This is just the first outdoor competition of the season, I am not that satisfied with my performance. I wanted to clear the 20 metres mark but fell a little short. This year, my goal is to break the National and Asian record," said Tajinder after his performance.
On the other hand, in the women's shot put, Manpreet Kaur started the season strongly by throwing 16.73 metres to clinch gold and also breaching the Asian Games qualification mark of 16.30 metres. Abha Khatua clinched silver with a throw of 15.06 metres and the bronze medal went to Kachnar Chaudhary from Rajasthan with a throw of 14.34 metres.
Later in the day, the men's javelin grabbed the attention with Kishore Jena from Odisha breaking the meet record previously set by Rohit Yadav, with a 78.93-metre throw. The silver medal was won by Sarbjeet Singh from Punjab with a throw of 75.63 metres and Abhishek Drall clinched the bronze with his last throw of the day of 73.51 metres.
The men's javelin throw event, in the absence of Olympic champion Neeraj Chopra, was won by Kishore Jena with a 78.93m distance. He too made the cut for the Asian Games as the entry standard was set at 78.23m for men's javelin throwers.
Karishma Sanil (Karnataka) won the gold at women's event with 47.60m while Hemamalini Neelakanda (Tamil Nadu) and Priya Attri (Uttar Pradesh) won the silver and bronze with their respective efforts 45.78 and 45.75 metres.
The men's and women's discus throw events were won by Manjeet (51.24m) and Kalavathi Basappa Teli (44.83m), respectively. In the hammer throw, Yuvraj Jakhar (52.69m) emerged victorious in the men's competition while Rekha's 54.44m won the gold medal in the women's event.