Sports
Men's World Boxing C'ships: Hussamuddin makes a winning start in 57kg category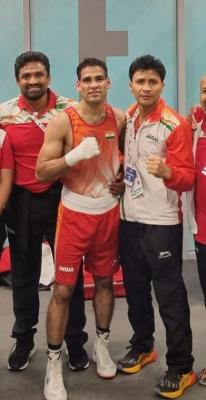 Men's World Boxing C'ships, Experienced campaigner and 2022 Asian Championships bronze medallist Mohammed Hussamuddin made a winning start in the IBA Men's World Boxing Championships 2023 with a comprehensive win in the first round on Monday.
Men's World Boxing C'ships, Hussamuddin, the two-time Commonwealth Games medallist. Got the better of Alen Rustemovski of Macedonia in the opening round of the 57kg category. Winning a unanimous 5-0 verdict in the Uzbekistan capital on Monday.
Boxing from the Red corner, Hussamuddin dominated the bout against Rustemovski in the first round. And was the choice of all the judges as he won a unanimous verdict.
In the next round, Hussamuddin will take on the winner of the Lyu Pengyuan of China and Amzolele Dyeyi of South Africa.
Monday's other matches, India's Varinder Singh will go up against Mujibillo Tursunov of Uzbekistan in the 60kg preliminary round.
In all 13 boxers are representing India in this event, the biggest of this season.
Top boxers from all over the world are in the fray in the IBA Men's World Boxing Championships 2023. The gold medallists will walk away with a prize money of USD 200,000. The silver medallists are to be given USD 100,000, and both bronze-medallists will be awarded USD 50,000 each.