Sports
Pramod, Sukant make it to semifinals of 4 Nations Para Badminton International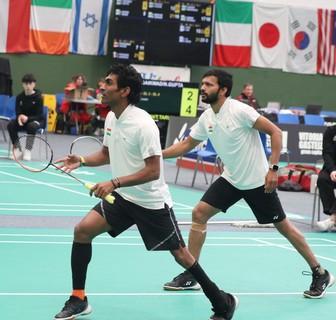 Ace shuttlers Pramod Bhagat and Sukant Kadam have made it to the semifinals of the 4 Nations Para Badminton International tournament. Pramod Bhagat has made it to the semis in all categories while Sukant Kadam has made it in two categories.
The Padmashri winner defeated India's Nehal Gupta in the quarterfinals to secure his spot in the semis. The 44 minutes match was a tight one with the scoreline reading 21-18 and 21-18. Now Pramod will be facing India's Kumar Nitesh in the semifinals. In the men's doubles World, No 1 pair of Pramod and Sukant won both their matches to secure a spot in the semis now they will face India's Kumar Nitesh and Tarun.
In the mixed doubles, Pramod and Manisha Ramdass defeated the France's Lucas Mazur and Faustine Noel in straight sets in the quarterfinals. The French pair never challenged the Indian pair and the final scoreline read 21-17 and 21-14. They now face India's Manasi Joshi and Ruthick Ragupathi in the semifinals.
On the other hand Sukant Kadam, defeated India's Tarun in a toughly fought quarterfinals. Them match went to 3 sets and both players gave their everything, but Sukant just managed to hold his nerves when it mattered the most. The first set was taken by Sukant with the score of 23-21, Tarun came back strongly in the second set to win it 21-14, in the final set Suknat had answers to al of Tarun's questions and he took final set 21-14 to book a place in the semifinals and will face Indonesia's Fredy Setiawan.