Sports
Rybakina tops Sabalenka to clinch Indian Wells title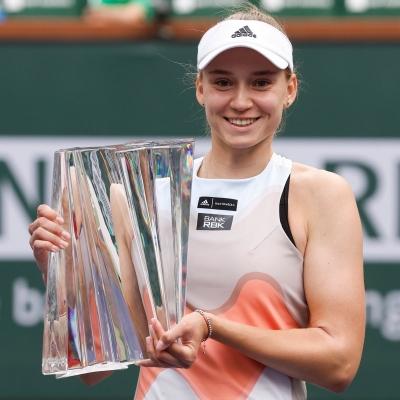 Elena Rybakina won her first title of the season, and the first WTA 1000 title of her career by defeating Aryna Sabalenka in the Indian Wells Masters finals, here.
In a reversal of this year's Australian Open championship match, the No.10 seed Rybakina defeated No.2 seed Aryna Sabalenka 7-6(11), 6-4 in the summit clash on Sunday, triumphing at the first event of 2023's Sunshine Double.
"Feels amazing. It's been a tough but really good two weeks for me here," Rybakina said in her post-match press conference.
With this, Rybakina picked up her fourth career WTA singles title. It is her first title since her breakthrough Grand Slam singles title at Wimbledon last summer.
Sabalenka came into the match with a 4-0 record against Rybakina, but each of those meetings had gone three sets. This time around, Rybakina gritted out the first-set tiebreak, then fended off a late second-set comeback by the World No.2 to grab her first win over Sabalenka.
"We both had chances [in the first set], but in the end, it went my way. So I think it was important this first set, and then it was a bit easier to start the second with an early break," Rybakina said.
"This tiebreak was really epic, I would say, with all these double faults and nerves. So in the end, it was just focusing on every point and try to fight till the end," she added.
Rybakina has now won her past four matches versus Top 2-ranked opponents. She beat then-No.2 Ons Jabeur in the 2022 Wimbledon final and defeated World No.1 Iga Swiatek two times this season, in the Australian Open Round of 16 and the Indian Wells semifinals this week.
For just the third time this century, the Australian Open finalists met again in the Indian Wells final. This also happened in 2000 (Lindsay Davenport defeated Martina Hingis in both finals) and 2012 (Victoria Azarenka beat Maria Sharapova both times), meaning this is the first of those occasions that the Australian Open runner-up avenged her loss in the Indian Wells final.
Meanwhile, it is only Sabalenka's second loss of the season, as she falls to 17-2 on the year. She was aiming to become the first player to win three titles in 2023, adding to her crowns at the Australian Open and Adelaide International 1.
Instead, Sabalenka remains level with Belinda Bencic (Adelaide International 2 and Abu Dhabi champion) for the most titles won so far this year. Sunday was also Sabalenka's first loss in her five career WTA 1000 finals.
On the other hand, Rybakina had already shown strong form in the semifinals with a straight-sets dismissal of Swiatek. By defeating Sabalenka as a follow-up, Rybakina became the first player to defeat the World No.1 and World No.2 at Indian Wells in the same year.
With the title, Rybakina is projected to rise from her current career-high ranking of No.10 to a new career-high of World No.7 in Monday's updated singles rankings. Sabalenka will remain at World No.2.