Technology
Foxconn Begins work on Manufacturing facility near Hyderabad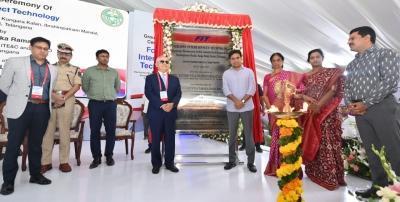 Taiwanese contract manufacturing giant Foxconn performed the groundbreaking of its new electronics manufacturing facility at Kongar Kalaan near Hyderabad on Monday.
Telangana's IT and Industries Minister K.T. Rama Rao announced that the first of Foxconn's plants in the state will come up with an investment of over $500 million and it will create 25,000 direct jobs in the first phase.
The groundbreaking took place in the presence of Rama Rao and its Chairman & CEO Sidney Lu at Kongara Kalan, about 35 km from Hyderabad.
The new facility is a promise to continue delivering world-class products to the markets, and a milestone for Foxconn Interconnect Technology's global expansion strategy – diversifying its global manufacturing base, said a joint statement by the Telangana government and Foxconn.
"Thanks to the government of Telangana's unwavering commitment to fostering a favorable business environment that has enabled Foxconn Interconnect Technology to invest and grow in the State. The proposed facility will serve as a hub for Foxconn Interconnect Technology's operations in Telangana" it said.
"The partnership and collaboration between Government of Telangana and Foxconn Interconnect Technology in making this project a reality will further embolden Telangana's growth story as well as Foxconn Interconnect Technology's growth in India.
Over the last nibe years, Telangana has emerged as one of the most dynamic and forward-looking States and has cemented its position as the most preferred investment destination for high tech manufacturing in India.
The proposed investment from Foxconn Interconnect Technology further validates Government of Telangana's efforts towards building a conducive ecosystem and enabling infrastructure for supporting the global electronics manufacturing industry, added the statement.
In short the Telangana government had announced that it will set up a manufacturing facility in Telangana with employment generation potential for over one lakh people.