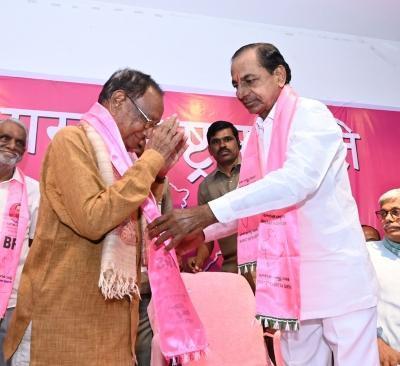 Former chief minister of Odisha, Giridhar Gamang, who quit the Bharat Janata Party (BJP) two days ago, joined the Bharat Rashtra Samithi (BRS) here on Friday.
Gamang, a nine-term Lok Sabha MP, along with several other leaders from Odisha joined the party in the presence of BRS president and Telangana Chief Minister K. Chandrasekhar Rao.
Speaking on the occasion, Rao stated that BRS is floated with a determination to change India's future and the thought and ideology of the country.
He welcomed Giridhar Gamang, his wife and former MP Hema Gamang, son Shishir Gamang and other leaders into the BRS fold.
KCR, as Rao is popularly known, said that joining Giridhar Gamang and supporters gives a great strength to the BRS.
The leaders who joined BRS include Odisha BJP State Yuva Morcha General Secretary Sneranjan Das, Koraput Parliamentary Constituency Youth Congress President and AICC Member, Rabindra Mohapatra, Phalguni Sabar, P. Gopal Rao, Mallya Ranjan Swain, convenor of Navnirman Kishan Sangthan Akshay Kumar, Mayur Bhanj ex-MP Ramchandra Hansada, Dhenkanal ex-MLA Nabin Nanda, six other former MLAs and leaders of various parties and organisations.
The BRS chief said that Akshay Kumar is a great person and is following in the footsteps of Mahatma Gandhi. Many people who took up movements for farmers are joining BRS on Friday, he said.
KCR reiterated that if people elect the BRS to rule the country, 24-hour quality electricity will be supplied to the entire country in two years.
"We will give free electricity to agriculture and implement Kisan Bandhu for farmers in the country and Dalit Bandhu for 20 lakh Dalit families every year," he said.
He said that clean drinking water will be provided all over the country as being done in Telangana land while 83 crore acres of cultivable land in the country will be provided for irrigation facilities at the earliest.
The BRS leader remarked that parties are winning elections, leaders are winning but people are the losers after every election.
"India's politics is about to undergo drastic changes. People should win elections, not parties or leaders. Then only, democracy can flourish in the country," he said.
KCR stated that, aiming for power, political conspirators are raising many slogans and making tall promises.
"In the name of caste and religion, political parties are creating discord between people. People are being divided. Parties should come out with the aim of public service and national development. The parties that have won the election should work in that direction. But what is happening today," he asked.
He claimed that Mahanadi in Odisha has more water availability than the state needs.
"We are using only 25-30 per cent. Rest of the water flows into the sea. Brahmani and Vaitarani rivers also flow along with Mahanadi. But there is no water to drink. Where is all this water going? Why is this water not coming into our houses as drinking water through drains?"