Telangana
India's largest prototyping centre set to be opened in Hyderabad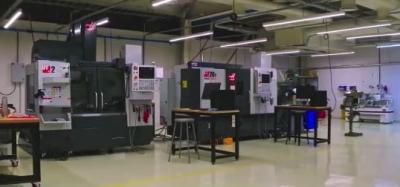 T-Works, India's largest prototyping centre, will be launched here on March 2, Telangana Industries and Information Technology Minister K.T. Rama Rao announced on Monday.
Sharing a video of the facility on Twitter, the minister said that T-Works will accelerate India's journey to become a leader in product innovation.
The prototyping centre will have cutting edge facilities and equipment to support innovation and prototyping.
The first phase of T-Works, an initiative of the state government, is spread over 78,000 square feet.
The campus has come up on 4.79 acres in the heart of Hitec City, the information technology cluster and the state government has spent about Rs 100 crore on this prestigious project.
The multidisciplinary facility has over 200 tools and machines. The number will be subsequently increased 10 fold.
T-Works CEO Sujai Karampuri said that it is a proud moment for him. He said he was excited to be part of the journey from day one and gave the credit for this to Rama Rao.
"Nowhere could a government step in to create such an initiative. Unique in India. Unique in the world. This is just the beginning. Shall increase capacity by 10x in a year," he tweeted.
According to T-Works, the facility aims to create and celebrate a culture of hobbyists, makers, and innovators in India; who explore and experiment without the fear of failure.
They can get access to state-of-the-art equipment, tools and be a part of a diverse community of hardware enthusiasts.
T-Works endeavours to collaborate at every step and ensure that equipment and services are designed to be accessible to all without any discrimination.
The prototyping centre will not take any IP or equity in exchange for its services and support.
Officials said the goal of T-Works will be to lower the barriers to prototyping, followed by enabling mentoring and so on.
Industrial-grade equipment and resources at T-Works are meant only for prototyping and will not be put to service for mass manufacturing.