Telangana
Kavitha's protest on women's Bill attempt to divert attention: BJP MP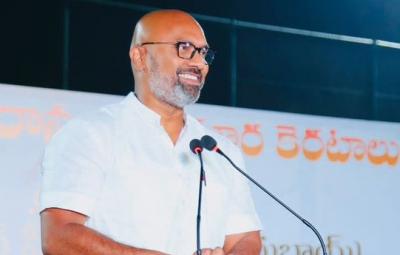 BJP MP Arvind Dharampuri has alleged that BRS leader K. Kavitha's proposed 'dharna' on women's reservation Bill is an attempt to divert people's attention from her involvement in Delhi liquor policy scam.
The MP from Nizamabad on Wednesday targeted the Member of Telangana Legislative Council after the Enforcement Directorate (ED) summoned her for questioning in the case.
Calling Kavitha's proposed dharna in Delhi on women's reservation Bill a farce, the BJP leader suggested her to convince her father and Telangana Chief Minister K. Chandrasekhar Rao to accommodate 33 per cent women in his cabinet.
"Aap chronology Samjiyea KCR govt. didn't have a single woman in his cabinet from 2014-2018, for obvious reasons of Ms Kavitha's hegemony in the party, who was an MP from Nizamabad then. After losing to BJP candidate in 2019 General Elections, subsequently becoming MLC in Nepotism quota & now evolving as a key conspirator in Delhi liquor scam, her sudden epiphany to fight for Women's Reservation bill is just her futile attempt to divert people's attention," tweeted Arvind, who had defeated Kavitha in 2019 Lok Sabha election.
The BJP MP also slammed Kavitha for her statement issued earlier in the day after ED issued summons to her.
"Telangana never bowed down to anyone in the First or Recent Telangana movement, but now is bowing in shame before the Nation in the light of your involvement in Delhi liquor scam," he wrote.
"Let me also remind the power mongers in Delhi that Telangana has never and will never bow before the oppressive anti people regime. We will fearlessly and fiercely fight for the rights of the people," Kavitha had stated in her statement.
Arvind also reminded Kavitha that her community represents not more than one per cent of Telangana population but represents more than 22 per cent of the Telangana cabinet. "Kindly convince your father to accommodate 33% women in his cabinet to gain tiny sanctity to your farce agitation on Women Reservation Bill," Arvind told the MLC.