Telangana
Sharmila detained in Hyderabad during protest on Women's Day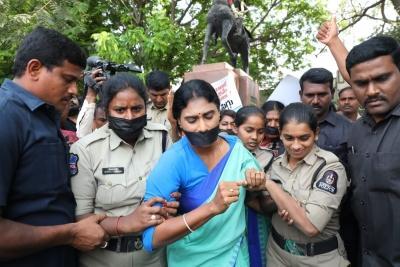 Hyderabad Police on Wednesday detained YSR Telangana Party (YSRTP) leader Y.S Sharmila when she staged a silent protest against atrocities on women.
Sharmila was leading the protest at the Rani Rudrama Devi statue located on the Tankbund road to commemorate the International Women's Day.
Talking to media persons, she said that Telangana has turned into a place filled with landmines for women under KCR's rule. She further said the state now has the dubious record of registering most number of rapes and kidnapping cases against women.
"The state has turned into a fill of land mines for women, planted in the form of crimes and atrocities. One never knows when they explode," she said.
Sharmila stated that for Chief Minister KCR only his daughter represents women and she has put the women to shame and disgrace by being caught in liquor scam.
Stating that women representation in KCR's cabinet itself is dismal, she said Kavitha has no moral right to fight in Delhi on women's representation because her father himself had not kept the word.
The YSRTP leader alleged that the BRS leaders are engaged in crimes against women. She said the constituency being represented by industries minister K. T. Rama Rao witnessed rapes against minors. "Hyderabad sees rapes in broad daylight. Dalit women are assaulted, killed in lockups but KCR won't say a word. His assurances for women are fake," she said.
She said even the Governor was not spared and foul language used against her by an MLC made way for his elevation as the government whip in the Legislative Council. "Even I was not spared as a woman and they hurled choicest abuses against me when I exposed their failures," she said.
Sharmila wanted to know where was the Bharosa app flaunted by KTR? "I checked myself and it's defunct. The State Women's Commission is a dummy," he said.
She called zero interest loans, women business hubs and industrial areas all fake promises. She said that even government schools and colleges have no toilet facilities for girl students.